A lucky player snagged a big-ass progressive jackpot at Flamingo playing what is arguably the world's most boring casino card game, Pai Gow Poker.
Thomas Zanot won $6,443,401 on Jan. 7, 2023.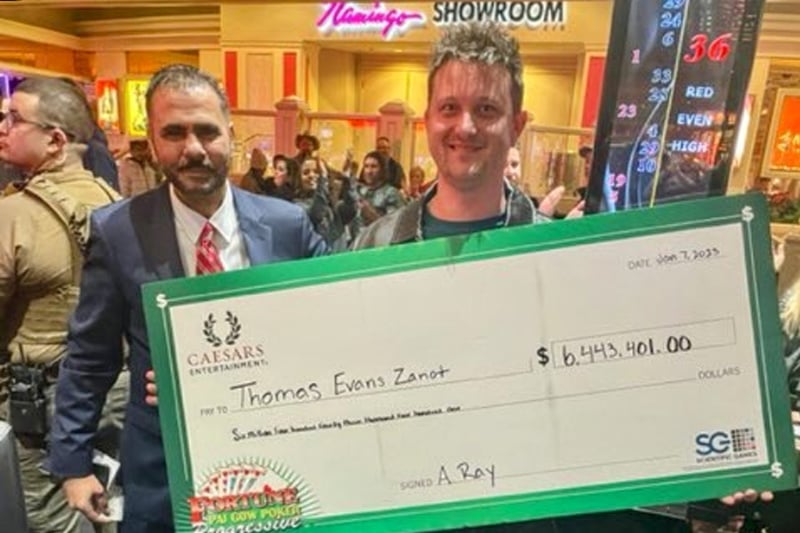 Almost as impressively, Zanot tipped the crew $65,000. (One percent of a jackpot is a common guideline for big wins, although most big winners tip nothing.)
Zanot declined to confirm the amount of his tip, but said, "That money will affect others more than me and I like seeing people happy." We don't know this guy, but we already love him.
We shared news of the Pai Gow Poker progressive windfall ahead of the official announcement, as is our way, Flamingo confirmed the big win the next day.
The #HeartofTheStrip just got 6 million times more fab 💖 Congrats to Las Vegas local Thomas Z. on hitting the biggest Pai Gow Progressive for a win of $6,443,401 🔥

+21 Gambling Problem? Call 800-522-4700 pic.twitter.com/seFexFiKCp

— Flamingo Las Vegas (@FlamingoVegas) January 8, 2023
When Zanot won, Flamingo sent a security detail (a mix of casino security and Armed Special Response Team) to watch his back.
Flamingo wasn't messing around. https://t.co/GJ9noeOAtl

— Vital Vegas (@VitalVegas) January 8, 2023
The winning hand was eight, nine, 10, jack, queen and ace of spades, as well as a joker. (The joker completed the seven-card straight flush for the big win.)
We only played Pai Gow Poker once, but we can confirm it warrants its reputation as the most boring casino card game in the world. Unless you hit a $6 million progressive, then things tend to perk up.
This progressive links more than 40 Pai Gow tables at casinos operated by Caesars Entertainment in Las Vegas, Lake Tahoe, Laughlin and Reno.
The jackpot was the biggest in the history of this particular progressive, more than six times more than the next largest Pai Gow progressive paid by Caesars in 2022. The last time the progressive hit was March 2022, at Cromwell, for a paltry $1 million. In Nov. 2021, a player hit the progressive at Harrah's Las Vegas for $1.4 million.
Thomas Zanot is a Las Vegas local and a fairly successful poker player. The regular kind of poker. Also fairly boring, but it gets more TV time than Pai Gow. Live poker requires skill, Pai Gow Poker requires patience and a strong liver.
One Web site says Zanot's all-time winnings total $1.1 million.
As mentioned, while we don't know Zanot, we like him not only because he tipped, but also because he has a sense of humor.
If you're curious about Pai Gow Poker, sorry, when we played, we were barely paying attention.
Basically, Pai Gow uses a 53-card deck (52 plus the joker). The player gets seven cards, then divides the cards up to make two hands, one with five cards, the other with two. Both hands have to beat the dealer's hands to win. If both hands lose, the player loses, obviously. If one hand wins and the other loses, it's a "push." Which happens often. Which is one of the reasons Pai Gow Poker is so boring. It's a lot of breaking even. But cocktails.
Also, Pai Gow Poker has a very low house edge, so there's that.
Here's a video that covers the game.
Fun fact: Despite the name, Pai Gow Poker didn't originate in Asia. It started in the Bell Card Club in California.
Another fun fact: The inventor of Pai Gow Poker, Sam Torosian, didn't patent or trademark his game. It goes without saying this "fun fact" is in no way fun for the game's inventor. By some estimates, he "lost" $100 million due to the oversight. Here's more.
Anyhoo, congrats to Thomas Zanot for his big win.
Zanot is laying low at the moment (including declining interviews), but we'll just assume he's rolling around naked in mounds of cash. Which we recommend people not do, mainly because of paper cuts, but you get the idea.