The topic of real estate agent commissions is one that often sparks debate. Some homeowners feel that they should only have to pay their agent a commission if the home is sold, while others believe that the agent should be paid for their time and effort regardless of whether or not the sale is finalized.
As a general rule, real estate agents in the United States are paid on a commission basis, though some may offer a flat fee for reduced services. The standard commission is typically 6% of the home's final sale price, though this number can vary depending on the location, type of property, and other factors.
So, if a home sells for $100,000, the seller is on the hook for both the seller's and buyer's agent's commissions, which would total $6,000. The buyer's agent's commission is typically paid by the seller as part of their closing costs. And, while most real estate agents on FastExpert charge less than 4%, some may charge a higher percentage, especially in more expensive markets.
Some homeowners may balk at the idea of paying a commission, but it's important to remember that real estate agents provide a valuable service. They are experts in their field and have the experience and knowledge to help you through the selling process. In addition, real estate agents often have access to a wide network of potential buyers, which can help you sell your home quickly and for top dollar.
So, without further ado, this seller's guide to the work an agent does for their commission will show you all of the steps that realtors take to sell your home. We've broken it down into phases, though many services cross over through various other phases.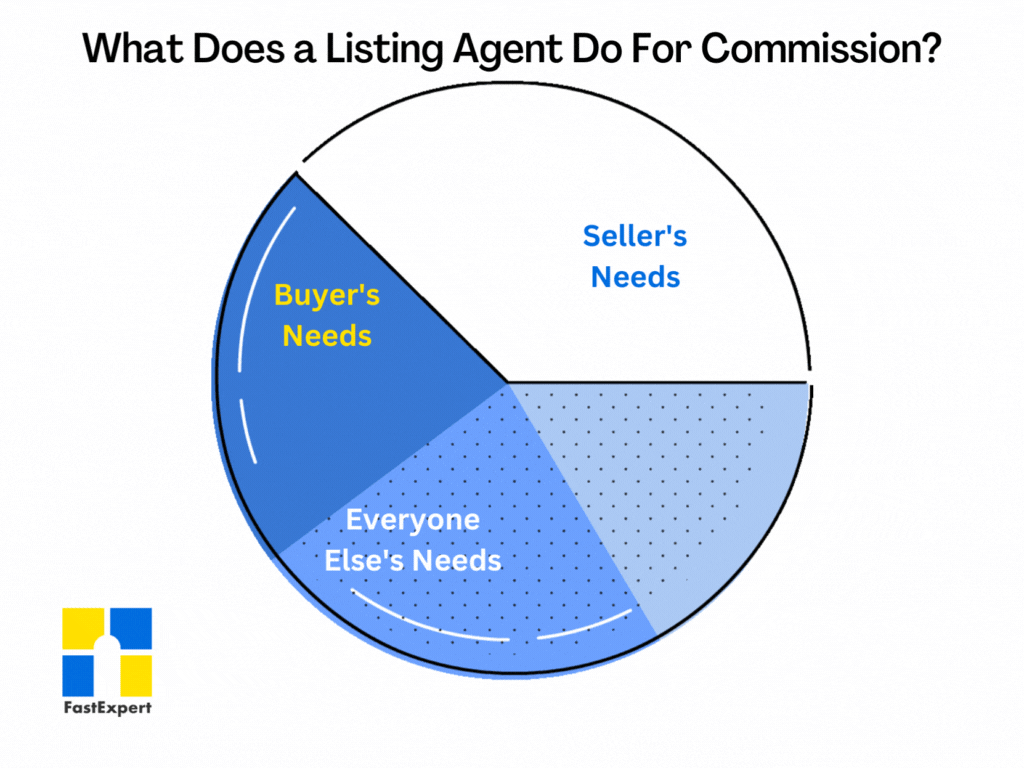 Phase 1: Preparing for the Consultation
When you reach out to a Realtor and inquire about their services, the first thing they will do is gather your basic information, then they immediately get to work preparing for your personalized consultation. In order to do this, they:
Verify Basic Information to Determine a Base Price
Gather tax records for your home to verify information about you (as the owner) and important property information such as the square footage, information on tax bills, when the property was last assessed, and any improvements that have been made to your home.
Verify the legal description and compare it to the physical address to make sure that there are no discrepancies.
Check for any outstanding liens on the property.
Research the ownership history of the property, which can include sales, mortgages, and liens.
Research floor plans (if available), to get a better understanding of the layout and size of your home.
Identify the local amenities such as schools, hospitals, public transportation, and shopping in order to help you understand the value of your home and what potential buyers will be looking for.
Stay up to date and analyze legal matters, interest rates, insurance, and the real estate market as a whole, so they can provide you with the most accurate information specific to your circumstances.
Run reports on other local homes in the area which are referred to as "comps." This stands for "comparable properties." They will generate a report of homes that have recently sold, are currently for sale, and those that did not sell in order to help you understand the market value of your home.
For rental properties, the agent will obtain copies of all lease/rental agreements, verify rents (and compare them to other rental princes in the area), verify deposits, as well as notify the tenants of the listing and how showings will be conducted.
In addition to comp data, agents will analyze other economic data of the area in order to understand recent trends, future predictions, and how this will affect the value of your home. This can include the number of months the local has of home inventory, review the prices and condition of homes that sold recently, investigate why homes that have been sitting on the local market for a while are not selling, and identify why homes that expired from contract didn't sell. Sometimes, this means the agent must contact other agents to identify local housing price issues.
With all of this economic data, the agent is then able to research the price per square foot they will suggest listing your home for. From here, they move on to the less concrete data they can use to adjust the price and strategy accordingly.
Gather Information From You
In order to best serve you, the agent must understand some basic information about you, the home's history while you've owned it, and why you are selling. They will ask questions like:
Why are you selling now?
What is your timeframe for moving?
What are your future plans?
Have you already had an appraisal done?
Do you have any other real estate holdings?
Have you already bought your next home or do you need to sell this one in order to buy?
Have you ever sold a home previously? What are your expectations for the sale?
Have you done any improvements? If so, what?
Are there any unique features we can accentuate to attract buyers?
This information is important because it helps the agent understand your timeline, needs, and motivation for selling. With this information, they can better tailor their services to fit your specific needs.
For example, if you need to sell your home quickly in order to buy a new one, the agent may recommend a different marketing strategy than if you were simply trying to get the most money for your home with no timeline.
With all of this information, the agent will have a good idea of what to discuss with you during the consultation.
Phase 2: The Consultation
At the consultation, the agent will present you with a Comparative Market Analysis (CMA). This document will outline all of the important information they gathered in order to help you determine a listing price for your home.
The CMA will include:
A list of recently sold homes in your area (comps)
A list of homes currently for sale in your area
A list of homes that did not sell in your area
An analysis of the market data
The agent's suggested listing price
An approximation of the amount you will receive at closing, including an estimated breakdown of closing costs, HOA fees/credits, real estate agent commissions, taxes, etc.
Once you have reviewed the CMA, the agent will go over everything with you. At this point, the discussion is likely going to go pretty in-depth about the local market, so you want to be prepared. Be sure to take notes and have a list of questions to ask a seller's agent before you go into the consultation.
The goal of the consultation is to help you understand everything the agent has done in order to determine their suggested listing price for your home. This includes their analysis of the market, their experience, and their understanding of your needs and motivation for selling.
Topics that should be discussed include, but are not limited to:
The current national and state real estate market
Your local county, city, and neighborhood market
Localized & national trends in home buying to help you target the right buyer
How your home compares to other local homes
HOA contact information and dues (if applicable)
Discuss how bracketing the sales price can help you find a buyer faster
Discuss any concerns you have about the proposed sales price
Discuss required disclosures and whether they pertain to the home
Phase 3: Getting Your Home Listed & Buyers Interested
Here is where everything really begins to come together. After you sign the listing agreement, the agent then shifts into full gear to get your home listed and sold in the discussed timeframe. If the timeframe is relatively short, the agent must really perform a delicate balancing act.
How delicate you ask? Well, let's assume you're looking to sell within 2 months. Here are all of the steps that your Realtor is likely going to take to make that happen:
Nail down the optimal times for showing the property, coordinate and communicate this to buyer's agents, while managing your schedule and their own.
Craft an extensive list of attractive features of your home that will form the basis of the marketing plan.
Make copies of all keys, which can be especially time-consuming for multiple properties.
Sit down with you to thoroughly explain pertinent documents such as agreements, disclosures, etc. throughout the process.
If also purchasing your next home from your current listing agent or your listing agent is acting as a dual agent, they also have all of the duties of a buyer's agent to perform.
Get together and place yard signs, print brochures, open house marketing materials, and a plethora of other physical advertising materials.
Coordinate with a professional home stager to help make your home more appealing to buyers.
Coordinate professional photography and/or videography services to help show off your home in the best possible light. If you're including a virtual tour, this will add to the process.
Create a listing on the MLS (Multiple Listing Service), which is a database of all homes for sale that is accessible by real estate agents nationwide, as well as many major websites such as Zillow, Trulia, Redfin, their own professional website, and more. Not only must they manually enter your home's information into these databases, but they must also proofread their work to ensure accuracy. It is recommended that you proofread their work, as well.
Create a website specifically for your home listing so visitors can learn more about the property.
Set up a lockbox so that other agents can access your home for showings without you being present. These lock boxes are monitored to ensure your family's safety.
Market the property extensively online across numerous websites, as well as through emailing their own contacts and social media marketing to get as many people as possible interested in your home.
Handle setting up the home warranty that will cover your home in case of mishaps during any showings or open houses. Adding this is always a good idea not just practically, but also makes for a great incentive for buyers to offer a short-term warranty.
Perform what is known as "reverse prospecting" on the MLS. This is when your agent searches the MLS to find buyers that are looking for a home like yours. The agent will then reach out to these prospective leads and show them your home's listing.
Conduct routine internal meetings with their team to ensure the strategy is working and discuss changes if it's not.
Create a highly detailed marketing book that contains all of the information a buyer could want to know such as financing plans that inform buyers of available loan programs, maps of the local area, floor plans, home features, tax, and other pertinent information. Doing this helps go beyond a simple brochure and leaves buyers with a lasting impression of your home.
Regularly check in with you to provide updates on how the listing is going, what offers have been made (if any), feedback from buyers and agents that have seen the property, etc.
After discussion with you, there may come a time when the price needs to be adjusted. Any information that changes must be updated in all of the previously created marketing materials. That means manually updating individual websites, adding a new sign to your yard sign, etc.
Communicate with buyer's agents to get feedback from them after showings. The other agents can help give insights into what their buyers liked or disliked about your home. You and your agent can then adjust the strategy as necessary.
Track and maintain open house records in case of any unusual activity taking place.
If your agent is also acting as the buyer's agent, they will need to pre-qualify potential buyers before showing them the home. This can be a lengthy process, but it helps to limit showings of your home to serious buyers only.
Schedule and attend closings. Some agents may have a team member or assistant attend in their stead, but it is not uncommon for the listing agent to be present.
Act as your goalie, fielding all of the calls, emails, and DMs from lookie-loos. This service right here is perhaps one of the most valuable as it can save you a lot of time and energy.
And, this is seriously still only half of it. We haven't even gotten into what a Realtor does once you get a serious offer. So, let's explore that…
Phase 4: The Artful Dance of Deal-Making
At this phase, your agent changes gear from "Full steam ahead!" to a more delicate negotiation. In order to get the best possible outcome for everyone, they will need to:
Review all offers submitted by prospective buyers and compare them against each other.
Communicate with the buyer or buyer's agent to determine if the buyer is qualified and discuss the details of the offer.
Your agent will need to get a pre-qualification letter from the buyer's loan officer and discuss the details of the transaction, as well.
Compile all of the offers into an easy-to-understand document for you to review and discuss.
As you discuss and compare offers, your agent will help you better understand the nuances of the offers and how they can impact your bottom line.
Recommend amendments or counteroffer terms if their original offer is not in your best interest.
If you decide to accept the offer, congratulations! You're one step closer, and your agent is now a deal-maker. The final step is to open up escrow and get the ball rolling on the sale. But, before that can happen, there are a few more things your agent needs to do…
Phase 5: Escrow & Closing
Once the deal is headed to escrow, your agent's job is not quite over yet. They will still need to:
Verify that escrow is opened and all agreed-upon earnest money is deposited promptly.
Ensure that all of the paperwork is in order and help you understand what you're signing. They will also need to act as a liaison and email or hand deliver various documents throughout the process not only to you but also to the loan officer, title agency, buyer/buyer's agent, etc.
Coordinate the appraisal, home inspection, and any other required tasks or services related to the sale. Your agent will also need to discuss the findings with you and how they can affect the sale process.
Update online listings to reflect that the home is now under contract. Your agent may still receive new offers, and they will immediately send them to you.
Routinely contact the lender, title officer, and other parties involved in the sale to ensure that everything is on track and progressing as it should be. If the buyer is having trouble obtaining financing, your agent will step up to assist with the process.
If there are issues with the title, your agent will work with the title officer and other parties to rectify the situation.
Assist in coordinating any repairs that need to be made before the sale can be finalized.
Help coordinate with the buyer's agent to schedule any final walkthroughs of the home before closing.
Prepare a net sheet based on the closing agent's figures that outlines all of the associated costs of selling the home so there are no surprises come closing day. This includes confirming pro-rated costs for HOA dues, utilities, taxes, etc.
Request and review all closing documents to ensure everything is correct.
Coordinate with the buyer/buyer's agent, you, and other parties to confirm the date of closing and act as a liaison to notify all parties.
If you're in the process of purchasing a new home after this one sells, now is the time for the agent to work to resolve any problems with timing.
Your agent (or someone your agent sends to stand in for them) will attend closing with you to finalize the deal.
From here, your agent will attend the buyer's final walkthrough and present you with your check. If not done so already, arrange the transfer of possession from you to the buyer. This could mean anything from delivering keys and other access devices to explaining the mail/garbage routes to the new owners.
Much of this is assuming the deal doesn't fall through because the buyer can't obtain financing or some other surprise issue. If it does, then you and your agent start back basically at Phase 1 because depending on how long the deal was in limbo, the market may have shifted.
Phase 6: The Aftermath
After the deal is done, keys have been exchanged, and you've moved out and started your new life, your agent is still working on the final details.
They will work on tying up any loose ends which may include:
Update online advertisements to reflect the home is now off the market.
Help the buyers understand their new home warranty (if it was included in the sale).
Ensure the buyers are satisfied with repairs and work to resolve the issue if an issue arises.
Cancel any services related to the home sale such as rented staging furniture.
Next Steps
As you can see, your agent's job is not done until you are moved into your new home and even after that. They will work hard to make sure the entire process goes smoothly and that you are kept up-to-date every step of the way.
Now that you know a little more about what agents do, we hope you have a better understanding of the value they provide. If you're ready to start the home selling process, we encourage you to find the perfect agent here on FastExpert!
With FastExpert, you can browse local agents, loan officers, professional home stagers, handyman services, and more! FastExpert is truly your one-stop shop for selling your home. We make the process simple and stress-free so you can focus on what's important – moving into your new home!