Chennai's East Coast Road (ECR) is known for its scenic private beaches and luxurious resorts. The gastronomic delights that ECR has to offer are impressive, making it a haven for food enthusiasts. Whether you seek a rustic, cosy or classy dining experience, restaurants in ECR cater to all preferences.

Source: Pinterest (BlueBay Beach Resorts)
See also: Why stay in Vijay Park Hotel Chennai?
How to reach Chennai and ECR? 
By air: Chennai is well-connected by air through the Chennai International Airport (MAA), catering to major domestic and international flights.
By rail: Travellers can reach Chennai through three major railway stations: Chennai Central, Chennai Egmore and Tambaram.
By road: To reach ECR from Chennai, options include taxi,  local buses or rental cars. The ECR stretches about 60 KM along the coast, starting from the southern end of Marina Beach and passing through popular neighbourhoods and attractions.
10  best restaurants in ECR
The Farm
Source: The Farm
Timings: 11 AM to 9 PM
Approx price for two: Rs 800 – Rs 1,500
Located in Semmencherry, Chennai, The Farm exudes the authentic charm of a dairy farm. Visitors can enjoy farm walks and fresh produce while indulging in a rustic experience. Also offered are a selection of organic groceries, including jams, pickles and cheese, making it a must-visit destination.
Bay 6
Timings: 12:30 PM – 10:30 PM
Approx price for two: Rs 1,000 – Rs 2,000
For a beachside bliss experience, head to Bay 6 in Panaiyur. Owned by cousins Bharath Raju and Karthik Raju, this restaurant offers delectable food and cocktails overlooking the stunning Bay of Bengal Sea.
East Coast At Madras Square
Timings: 12 PM- 10 PM
Approx price for two: Rs 1,200 – Rs 1,800
If you're a fan of Italian cuisine, East Coast At Madras Square in Neelankarai is the place to be. This restaurant is renowned for its pasta, roasted chicken and steaks. The vibes and captivating interiors add to the dining experience.
Pelican Deck
Timings: 7 PM- 11 PM (closed on Mondays)
Approx price for two: Rs 1,800 – Rs 2,500
Perched atop the Sheraton Grand Chennai Resort & Spa in Neelankarai, Pelican Deck offers the BBQ feast on the Chennai coast. Guests can indulge in an array of grilled meats while enjoying a chilled-out vibe and refreshing drinks.
Hibiscus Cafe
Timings: 11 AM-10 PM
Approx price for two: Rs 800 – Rs 1,200
Situated in Injambakkam, Hibiscus Cafe offers a delightful blend of Continental and Pan-Asian cuisine. The cafe's cosy cabana-style booths and scenic lake view make for a relaxed dining experience. Must-try dishes include Vietnamese sticky rice, Chili Spiced Fish, Nasi Goreng and cold brewed orange coffee.
Kai From The Sea
Timings: 12 PM- 10 PM (closed on Tuesdays)
Approx price for two: Rs 1,500 – Rs 2,000
This Uthandi-based fresh fish shop and seafood restaurant offers a cosy yet sophisticated ambience, along with a variety of global cuisine prepared by talented chefs. The restaurant operates as a fresh fish shop, ensuring the seafood is sourced daily. From soft-shell crabs to Goan fish curry, their culinary team curates French and Indian recipes to perfection.
Meraki Cafe
Timings: 11 AM-10 PM (closed on Tuesdays)
Approx price for two: Rs 1,000 – Rs 1,600
Housed in a converted bungalow, Meraki Cafe in Neelankarai sprawls across 3,000 sqft of tropical inspiration. Owned by the duo behind Sushi in a Box and Café de Paris in Teynampet, Meraki Cafe serves fusion cuisine with diverse flavours, artfully plated for a vibrant dining experience.
Thoondil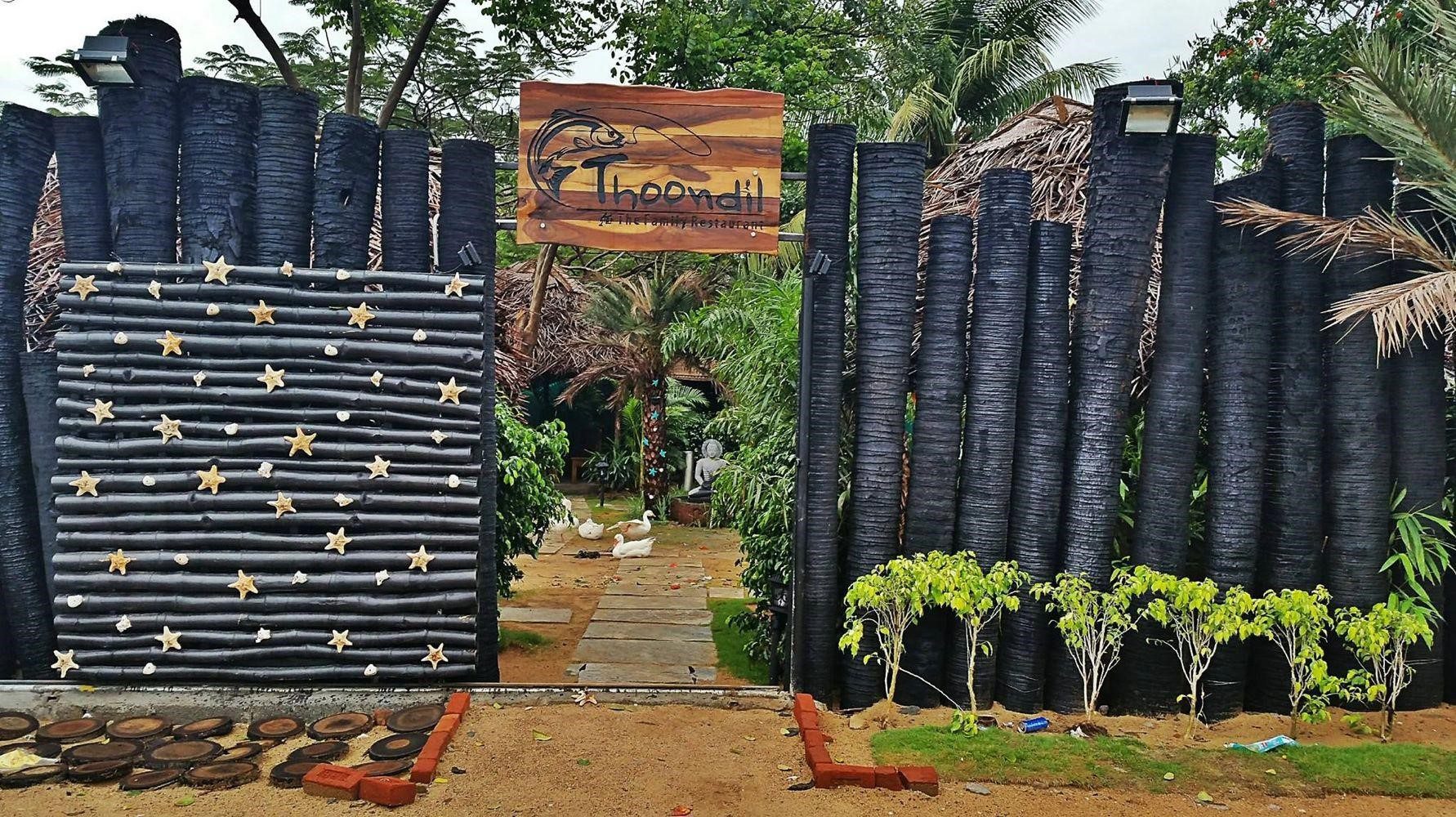 Source: Thoondil
Timings: 12 PM – 10:30 PM (closed on Mondays)
Approx price for two: Rs 1,200 – Rs 1,800
For a seafood delight, head to Thoondil, ECR's Live Seafood restaurant. Indulge in mouthwatering prawn tawa fry, flavorful fish curries, and the delightful Chettinad combo. The warm and family-friendly atmosphere, coupled with a serene coastal setting, makes Thoondil the perfect spot for gatherings with friends and family.
The Chennai Bistro
Timings: 11:30 AM-10 PM (closed on Mondays)
Approx price for two: Rs 500 – Rs 800
The Chennai Bistro in Muttukadu offers amazing food in a warm, homely atmosphere. Standout dishes include Phuket fish, oyster lollipop and their signature fish thali, capturing the essence of traditional South Indian cuisine.
Seriani Tiffin Centre
Timings: 7 AM- 10 PM (closed on Thursdays)
Approx price for two: Rs 100 – Rs 300
Located near Thiruvanmiyur Beach, Seriani Tiffin Centre is a vegetarian restaurant known for its sambar and other popular dishes like Pongal and ghee dosa.
FAQs
What types of cuisines can I expect to find at ECR restaurants?
ECR restaurants offer a wide variety of cuisines to cater to different tastes. You can find traditional South Indian delicacies, North Indian dishes, Continental, Pan-Asian, Italian, seafood specialities and even fusion cuisines.
Are ECR restaurants family-friendly?
Yes, many ECR restaurants are family-friendly and offer a warm and welcoming atmosphere. Some restaurants even have dedicated play areas for children, making them ideal for family outings.
Are there vegetarian options available at ECR restaurants?
ECR restaurants take into consideration the preferences of all diners and you can find plenty of vegetarian options on their menus.
Is it necessary to make reservations at ECR restaurants?
While it is not always mandatory, it is advisable to make reservations, especially during weekends and peak tourist seasons. Some popular restaurants can get crowded, and having a reservation ensures you have a table waiting for you.
Are ECR restaurants budget-friendly or more upscale?
ECR restaurants cater to a range of budgets. You can find everything from budget-friendly eateries and cafes to more upscale fine-dining establishments. There's something to suit everyone's budget and preference along the ECR stretch.
Got any questions or point of view on our article? We would love to hear from you. Write to our Editor-in-Chief Jhumur Ghosh at
jhumur.ghosh1@housing.com