Tao Group is going through some changes, but it seems the company is still committed to bringing the deliciousness to Las Vegas.
Luchini plans to open at MGM Grand this fall. The restaurant will serve pizza-by-the-slice at an adjacent counter.
Luchini will take over the now-closed Ambra Italian Kitchen + Bar space. The fact you haven't heard of Ambra is among the reasons Ambra closed.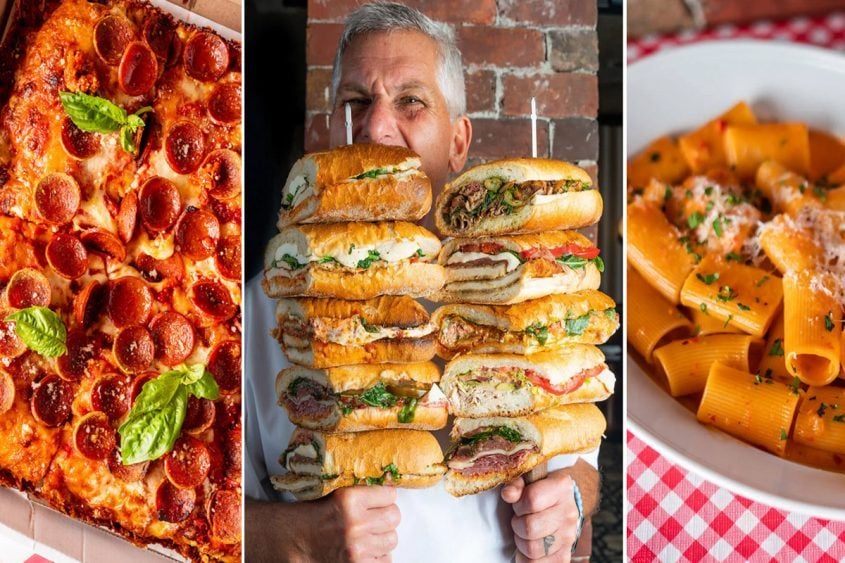 The Internet says "luchini" is slang for money or having wealth.
Today's random-ass and utterly useless trivia: The surname Luchini is most common in Brazil.
The brand started as a delivery-only "virtual restaurant" during the pandemic.
The announcement of Luchini has flown under the radar, but we think it's worth a look.
Because Italian, that's why. Also known as our personal culinary sweet spot.
Madison Square Garden recently sold its majority stake in Tao Group to help pay for the Sphere at Venetian. In layperson's terms: Perhaps the most bone-headed business decision, ever.
The sale doesn't appear to have interfered with any plans on the part of Tao Group. In May 2023, Tao Group was acquired by Mohari Hospitality. We have no idea what that is, but press on.
The plan is for Tao Group to have a multi-year agreement with Sphere Entertainment for "consulting, marketing and support services."
Sphere is going to need all the help it can get. The business model is $50 movies. 'Nuff said.
Tao Group is a respected brand, with other offerings at MGM Grand including Hakkasan Restaurant, Hakkasan Nightclub and Wet  Republic, a dayclub. Tao Group also operates Omnia Nightclub at Caesars Palace, Marquee Nightclub and Beauty & Essex at Cosmo, Lavo restaurant at Palazzo, Jewel Nightclub and Cathedrale at Aria, along with Tao Asian Bistro and Tao Nightclub at Venetian.
Anyway, back to what we actually care about, Italian food.
Here's a blurb from the official announcement of Luchini: "A refreshing take on a classic Italian-American restaurant inspired by the flavors of New York, the Luchini menu will highlight handmade pasta, pizzas, salads and timeless dishes served in a welcoming and lively space. The adjacent pizza-by-the-slice shop echoes classic tri-state pizza parlors with a counter up front serving a variety of pizza offerings for those seeking a quick snack on-the-go or to satisfy a post-concert craving."
Yes, we removed the Oxford commas. They're weird.
Construction walls are up at MGM Grand.
Coming to MGM Grand. We're in. Related: https://t.co/Jd8eCaKimq (h/t @JamesInLasVegas) pic.twitter.com/y5DboqmkTH

— Vital Vegas (@VitalVegas) June 17, 2023
No, really, "nice'a." Otherwise known as "cultural appropriation." Bonus points for the porn 'stache, though.
This location has been challenging for MGM Grand. Before Ambra, it was Fiamma. If Luchini doesn't work, MGM Grand is going to have a giant surplus of vowels.
Ambra never had a fighting chance, pandemicwise.
Ambra @MGMGrand looks great. Sadly, after millions in renovations, hasn't been able to open as a restaurant (currently bar only). Told by staff it could open fully in 2022. pic.twitter.com/9J1DGyi2gZ

— Vital Vegas (@VitalVegas) July 30, 2021
We can't wait to try Luchini. In our ever-humble opinion, you can never have too much Italian.
There's a ton of great pizza downtown (Pizza Rock, Evel Pie, Pop-Up at Plaza, Whiskey Licker Up at Binion's), but it's lacking on the Las Vegas Strip (Superfrico at Cosmo is probably the strongest).
Let's get to proofing and slapping out some skins and cheese-pulling and mutzing and upskirting and leopard-spotting and lots of other pizza terms we didn't realize were a thing until we wrote this blog post.
Before you cancel us, "upskirting" is when a pizza chef lifts the pizza and looks underneath to see if it's done. Your cancellation is canceled. Boom!