Casino carpets are a thing of beauty and many Las Vegas watchers are fanatical about their distinctive and utterly unique designs.
The designs of the carpets, not the designs of the Las Vegas watchers. That would be weird.
Silverton, New York-New York and Fremont casino have gotten carpet upgrades recently, and we'd be remiss if we didn't share them. The last thing we'd want to be is remiss.
Here's what's up (technically, down) at Silverton.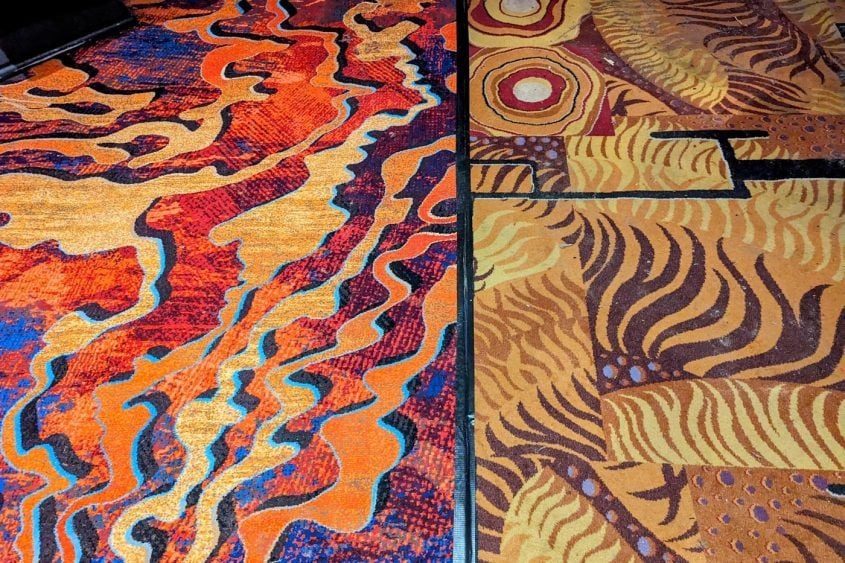 Glorious!
It's a common myth casino carpets are bright and busy to keep guests looking at slot machines.
The truth is casino carpets are designed to conceal wear and stains.
As mentioned, each casino's carpeting is unique to that casino. It's an extension of the brand, and there are obsessive carpet nerds who can identify a casino with no other clues than the carpeting.
Here's another look at how the carpeting is brightening up the casino floor at Silverton.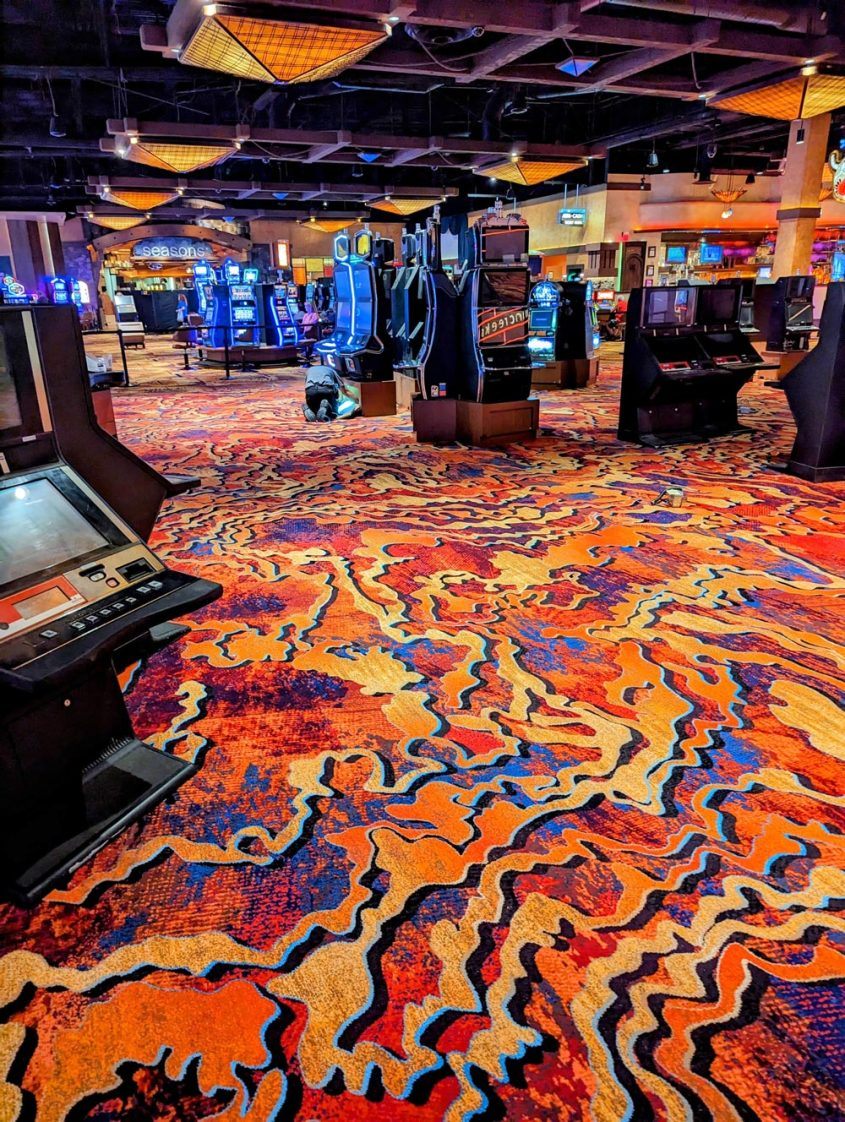 The Silverton's hotel has been closed for a renovation for some time, but the hotel is set to reopen Oct. 2, 2023.
On to New York-New York!
New York-New York now has what is probably the most on-brand casino carpeting in Las Vegas, featuring the Empire State Building, Lady Liberty and some sort of bridge, enduring symbols of the Big Apple.
Yes, the Big Apple is still big despite shrinkflation.
The new themed carpet at NYNY is looking good. @VitalVegas pic.twitter.com/EZ9TT1tiLO

— Jeff Broman (@GoTravelzing) August 12, 2023
Our hope is they didn't swap out the 69 design in high limit.
Once you see the 69 in the carpet at New York-New York's high limit slot room, you can never unsee it. pic.twitter.com/axglPbkMXy

— Vital Vegas (@VitalVegas) January 4, 2022
Here's another look at the transition.
The myth: Casino carpeting is busy to keep guests looking at the slots. The fact: It's to conceal stains and wear. https://t.co/iLjZ8S8xuT

— Vital Vegas (@VitalVegas) July 23, 2023
The carpeting upgrade at Fremont casino continues as well.
The downtown casino has been upgrading its casino floor in phases, and the carpeting has been replaced along the way.
Fremont casino renovation update. Making good time. Casino bar (actual name: The Bar) is getting a refresh. The carpet grows on you. pic.twitter.com/QAWwhkYAH6

— Vital Vegas (@VitalVegas) June 7, 2023
In other carpeting news, we've already spoiled the surprise about what the carpeting will look like at Fontainebleau. The new resort opens in Dec. 2023.
We're pretty sure this carpeting is in the hotel, as opposed to the casino, but still. Fancy.
Today in boom: Fontainebleau has been very secretive about its construction progress. We DGAF. We've got exclusive pics inside. Bonus: Carpeting! (h/t Austin Abell-Shepard) https://t.co/wloq6JZt41 pic.twitter.com/89a5KzLTIi

— Vital Vegas (@VitalVegas) January 19, 2023
We also ruined Durango's surprise. The off-Strip casino is scheduled to open November 20, 2023.
Durango casino update, including some eye candy for the casino carpet fans. pic.twitter.com/2IWEpxZ7di

— Vital Vegas (@VitalVegas) July 19, 2023
It's worth noting Plaza tweaked its carpeting for a new smoke-free slot area.
Plaza's casino carpeting has always been cheesily glorious, but there was some issue related to copyright when new carpeting was needed, so the design had to be tweaked for the new casino space. Still both glorious and cheesy, thankfully.
Peek inside the smoke-free casino expansion @PlazaLasVegas. Soft open tomorrow. More flourishes to come, mainly involving Brian Christopher's face. Carpet square is now one of our most prized possessions. @BCSlots pic.twitter.com/occlMEXMCa

— Vital Vegas (@VitalVegas) May 26, 2023
If you haven't been to Horseshoe (Bally's), you'll want to note the new carpeting in that casino, too.
Horseshoe Las Vegas carpeting is a smidge literal, but nice. (h/t @JamesInLasVegas) pic.twitter.com/8G6H0RGtq2

— Vital Vegas (@VitalVegas) October 28, 2022
The carpeting at Horseshoe varies depending upon where you are.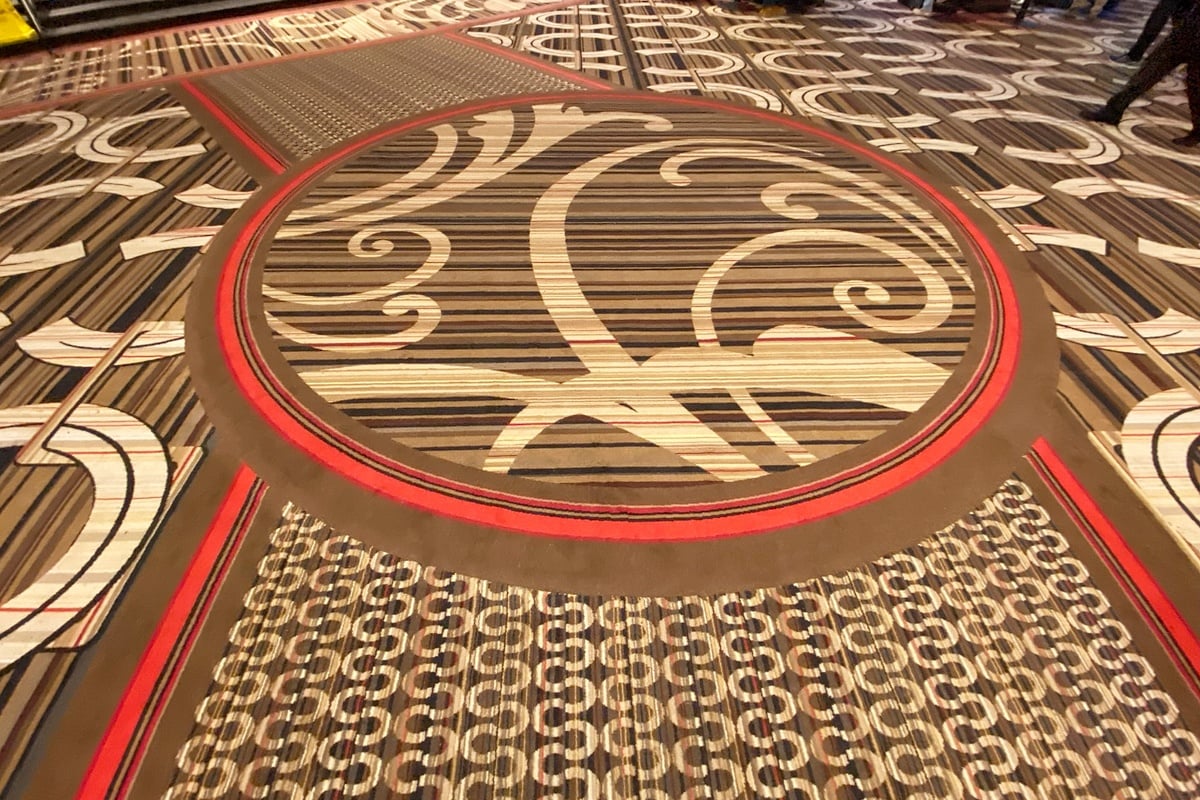 Don't look now, but you, too, are a Las Vegas casino carpet nerd!
Your certificate of nerdery is in the mail.
Yes, people still mail things.
This is not one of them.