Daredevil and pop culture icon David Blaine is pulling what's known in magic circles as "the old switcheroo." Or possibly "ol' switcheroo." Dark horse: "ole."
Blaine announced he'll move his show from Resorts World to the Encore Theater, with a schedule of a dozen performances starting on New Year's Eve weekend. As with all Las Vegas residencies, this one could be extended if it's successful.
The new show is called "Impossible," with the "IM" presumably standing for "interactive magic." If you know this blog, we are a huge fan of affectation, so we're already excited about this new show.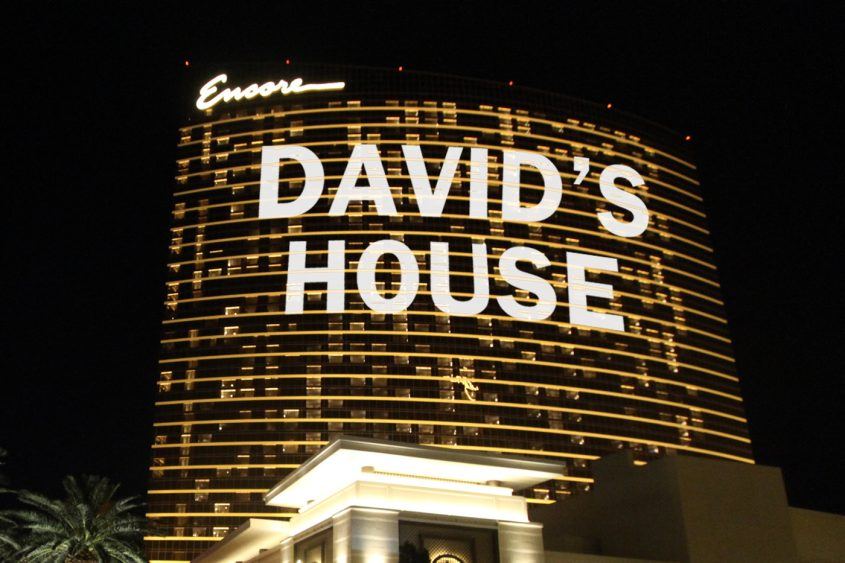 The change of venue hasn't been commented upon by Blaine, Resorts World or Wynn Resorts. Which is pretty much confirmation of glorious drama.
Our sources aren't talking.
The "extreme illusionist" and master of monotone opened his show at Resorts World on September 30, 2022. It was fairly well-received, despite a large portion of the show involving watching the magician hold his breath.
To make things interesting, Blaine suffered a couple of injuries during the course of his show. He accidentally stabbed his hand with an ice pick during one illusion and dislocated his shoulder during a stunt where he dropped from an 80-foot platform into a pile of cardboard boxes.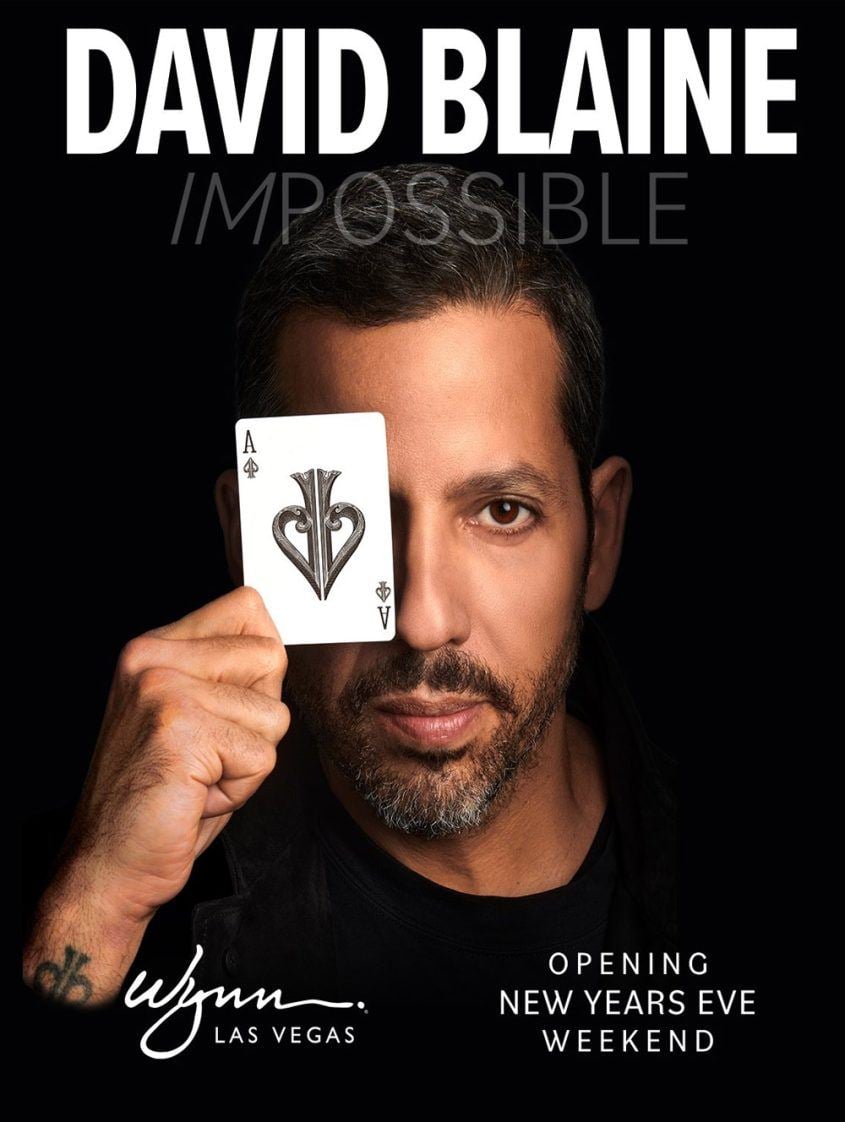 Most decisions in Las Vegas are based upon money, which makes this move even more intriguing.
Resorts World's theater has about 4,700 seats, the Encore Theater seats about 1,500.
That's nearly 70% fewer seats off the top of our head, which is a complete lie because we've never done any kind of math without the use of a calculator.
Still, that's a lot fewer tickets to sell, and potentially a lot less cabbage for Blaine. We trust he's doing all right.
The best way to ensure sold-out shows is to play in a much smaller theater.
We didn't get to see David Blaine at Resorts World, but we hope to check the show out at Encore.
The dates are Dec. 29, 30 and 31; Feb. 14, 17 and 18; March 27, 29, 30; and May 8, 10, 11, 2023.
You can get tickets at Ticketmaster, a ticket-buying experience not unlike slamming your hand down on an ice pick, come to think of it.
Ticket prices run the gamut, from $91.50 to $1,000.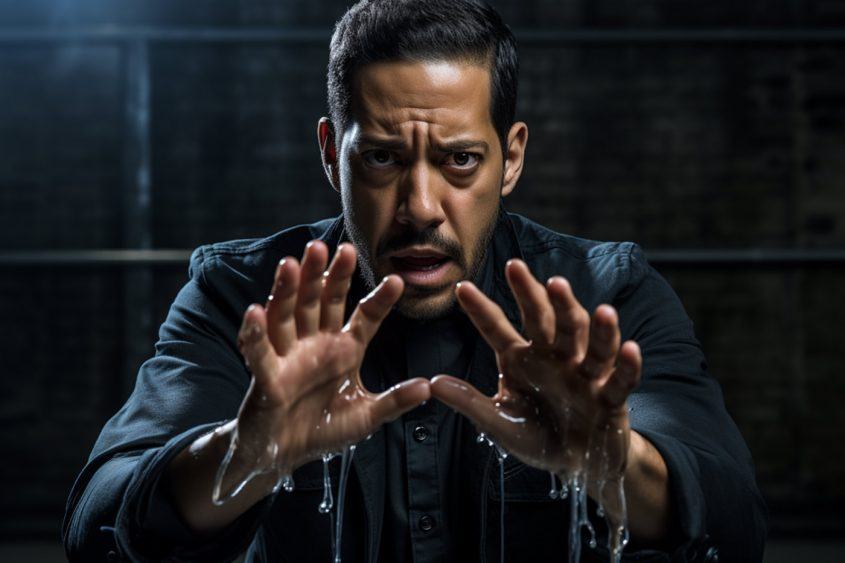 If you don't know about David Blaine, please exit your fallout shelter and read this boilerplate language they use in news releases: "Described by Howard Stern as the greatest magician who ever lived, David Blaine single-handedly redefined magic after producing and directing his original television special 'Street Magic' when he was just 23, which Penn Jillette of Penn & Teller called 'the best TV magic special ever done.' The New York Times noted that Blaine has 'taken a craft that's been around for hundreds of years and done something unique and fresh with it,' whilst The New Yorker claimed 'he saved magic.' Over the last two decades, Blaine's nine primetime specials have seen him being buried alive in New York City for a week, encased inside a six-ton block of ice for three days, survived standing atop a 100-foot-tall pillar in Bryant Park for 36 hours without a safety net, endured 44 days inside a transparent box in London on nothing but water, and had over one million volts discharged at him continuously for 72 hours from seven Tesla coils. Blaine also spent one week submerged in a sphere-shaped aquarium at Lincoln Center, before breaking the world record for breath holding live on the Oprah Winfrey show where he held his breath for over 17 minutes. In addition to the many millions who have seen him on television, Blaine has also performed live for audiences of more than 20,000 in arenas around the world. He has performed intimately for every sitting American president including Barack Obama, Bill Clinton and George W. Bush as well as a number of international leaders and prominent figures such as Henry Kissinger, Michael Bloomberg, Stephen Hawking, Muhammad Ali, among others. His TED talk became one of Bill Gate's personal favorites and is widely considered the most revealing testimony Blaine has ever given on the topic of his remarkable career."
Oh, let's just watch. Like you have anything better to do.
Oddly, no mention of David Blaine's membership in the infamous "Pussy Posse," mostly because it's always left to us to make things awkward.
We didn't hear any scuttlebutt about any bad behavior by David Blaine at Resorts World. Boring, but refreshing.
His new show should satisfy Blaine's fans, and they'll be closer to him in the more intimate Encore Theater.
Did Wynn steal Blaine from Resorts World? Did David Blaine leave Resorts World because the slots are too tight? Will Wynn provide something softer than cardboard boxes for him to fall into? Has Blaine been working with a speech therapist to add any inflection to his voice? Is it obvious we couldn't think of a way to end this story, so we just started asking annoying questions? Did you think that would be the last one? Do you really have so much spare time that you're still reading? Ever notice how Wynn has a period in its logo but Encore doesn't? See? If you read long enough, you might actually stumble upon something that could win you a bar bet? Was that even technically a question? Is that the timer on our oven telling us our lasagna is done?
Anyway, David Blaine. Wynn Las Vegas. Prepare for some mystification and such.