We love casinos and often visit more than one on a given day.
John and Kristina Mehaffey also enjoy casinos, but on a very different level. They recently visited 93 casinos in and around Las Vegas in a 24 hour period, placing bets at every casino during their record-breaking marathon.
We're exhausted just typing that sentence.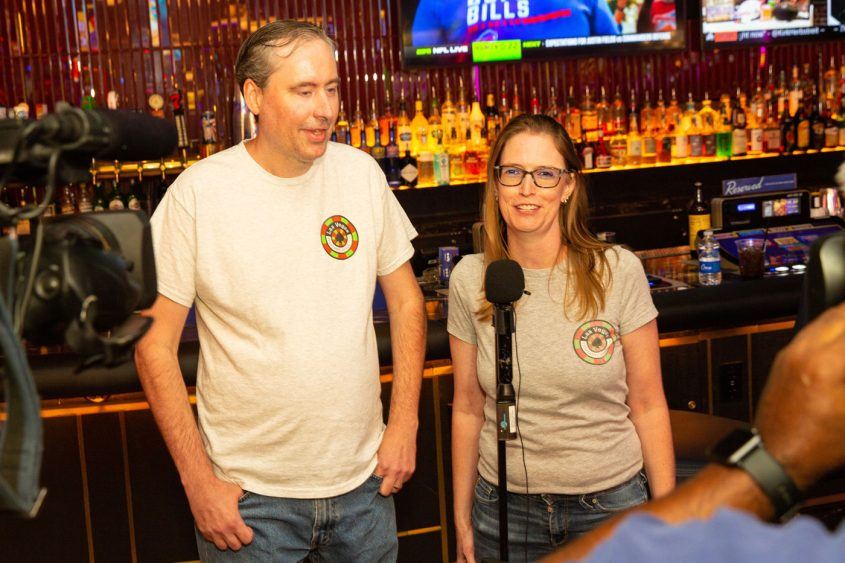 The Mehaffeys are well-known in Las Vegas circles, as the couple operates VegasAdvantage.com, a Web site devoted to casinos and tourism. Much like this blog, but without all the snark and back-patting.
The Mehaffey's record-breaking journey happened in honor of their 21st wedding anniversary.
The couple that treks together, sticks together. An imperfect rhyme, but try finding something romantic that rhymes with "keno."
The pair had a "system" for placing their video keno bets: "We will attempt to play a pattern of keno numbers at each property. At every casino, we will play our three anniversary numbers: 10, 5, and 21. For the fourth or fifth numbers, we will represent how many casinos we have visited so far. Adjustments made for the 5th, 10th, and 21st casinos, and so on."
The anniversary-inspired endurance test started at the Golden Gate at 5:00 p.m. on Oct. 4, 2023.
We are ready to start the adventure at Golden Gate. pic.twitter.com/ByhUw9ev7c

— Vegas Advantage (@Vegas_Advantage) October 4, 2023
We are not a math person, but the Mehaffeys had to average about four casinos every hour to meet their goal of visiting 93. Remarkably, they didn't need the entire 24 hours to set the record, it was closer to 23.
The Mehaffeys chronicled their casino escapade on Twitter, the social platform some impressionable people now refer to as "X."
Here's a look at how much ground they covered. They not only hit The Strip and downtown, but Henderson and Boulder as well, along with a number of locals casinos.
Two weeks from now about this time, Kristina and I will walk into @CircaLasVegas. It will be the 92nd casino on our 21st-anniversary journey. Circa offered to drive us to the last 33 casinos. Thank you to everyone there who helped make that happen. 1/ pic.twitter.com/HvTNpAyVxJ

— John Mehaffey (@John_Mehaffey) September 21, 2023
Honorable mention goes to the Rainbow Club casino in Henderson, because we have to make everything about us. And 69.
We just hit downtown Henderson. These are 68, 69, and 70 on the route, in the order of pictures. Emerald Island and Rainbow Club have some of the best low limit video poker in the market. Pass has table games. Next stop: Railroad Pass. Also, attention @VitalVegas. pic.twitter.com/ABTp3rKHTp

— Vegas Advantage (@Vegas_Advantage) October 5, 2023
The pair kept slot tickets from every casino they visited.
This is what 93 slot tickets look like. Most are $0.20 or $0.25. pic.twitter.com/g5mbbYlQVA

— Vegas Advantage (@Vegas_Advantage) October 5, 2023
The couple's quest ended at Circa resort, a casino that never says "no" to a unique public relations opportunity.
Side note: They're the ones who invited us to make a ceremonial roulette bet in honor of the reopening of a renovated table games pit. While our bet didn't go well, our crushing defeat went viral and was seen by millions of people across a variety of social platforms. Circa's owner, Derek Stevens, is adept at the art of making something out of anything. See also the Modot. Or that time a guy stole a piece of the Blarney Stone from The D.
Anyway, the Mehaffeys!
Once they arrived at Circa, unlike many couples, John and Kristina Mehaffey seemed to still like each other after spending 24 hours straight with each other.
They didn't seem all that comfortable with the attention they were getting, which is one of the reasons we like John and Kristina.
The Mehaffey's (@John_Mehaffey) & @Mehaffey_KM) are making their final bet at #MegaBar to conclude their unofficial world record – betting at the most casinos in 24 hours! 🙌#CircaLasVegas pic.twitter.com/AD1rIysOvB

— Circa Las Vegas (@CircaLasVegas) October 5, 2023
We hope to interview one or more of the Mehaffeys for our podcast, to get some of the juicy details of their adventure.
If you aren't particularly obsessive about Las Vegas, this all might be a bit bewildering. Have you ever heard the term "bragging rights"? That's a thing.
We think it's awesome they took this on and saw more casinos in a day than many people see in a lifetime.
They even visited the crappy places like Jerry's Nugget and Sahara where nobody ever goes. That's dedication!
Here's the list of casinos they visited.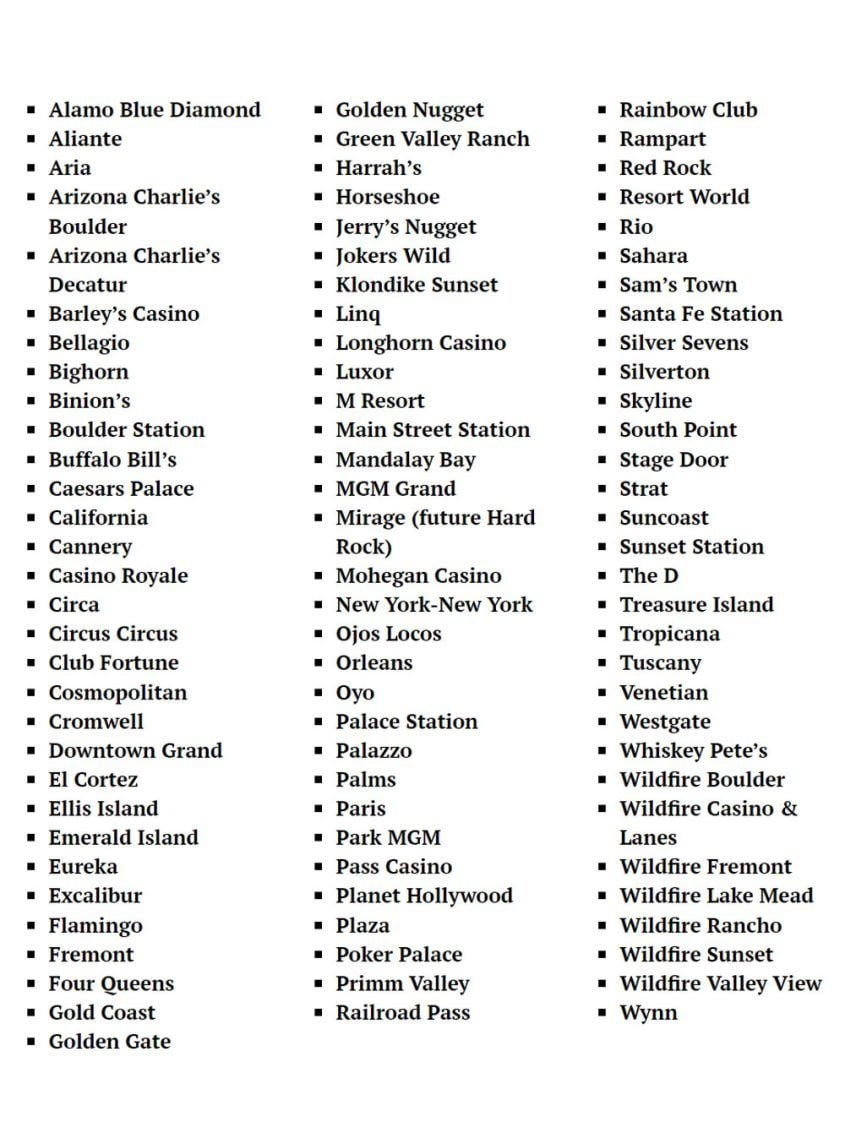 Will anyone ever match or beat their incredible feat? They're being tight-lipped about the specifics of how they beat the clock (transportation provided by Circa to a third of the casinos helped), but we will say they made it look much easier than it actually is. We have personally spent upwards of three hours just trying to find our car in the Cosmo's parking garage.
Given the traffic snarls caused by F1 at the moment, we honestly have no idea how they managed it. As far as we know, Circa doesn't have any flying cars. They do have an armored car repurposed as a limo, but that's for another time.
Congrats to our friends, Kristina and John Mehaffey, for their singular achievement of visiting 93 casinos in 24 hours! It's like winning a Nobel Prize, but with more cigarette smoke. Don't get us started.