Burger Bar, a formerly beloved burger joint at Mandalay Bay (technically, Mandalay Place) is rumored to be closing following some behind-the-scenes drama. Our favorite kind.
The rumored replacement will be a Wahlburgers Burger Restaurant, the second outpost of the chain in Las Vegas. There's another Wahlburgers as Grand Bazaar Shops at Horseshoe.
The restaurant transition hasn't been announced or confirmed officially yet.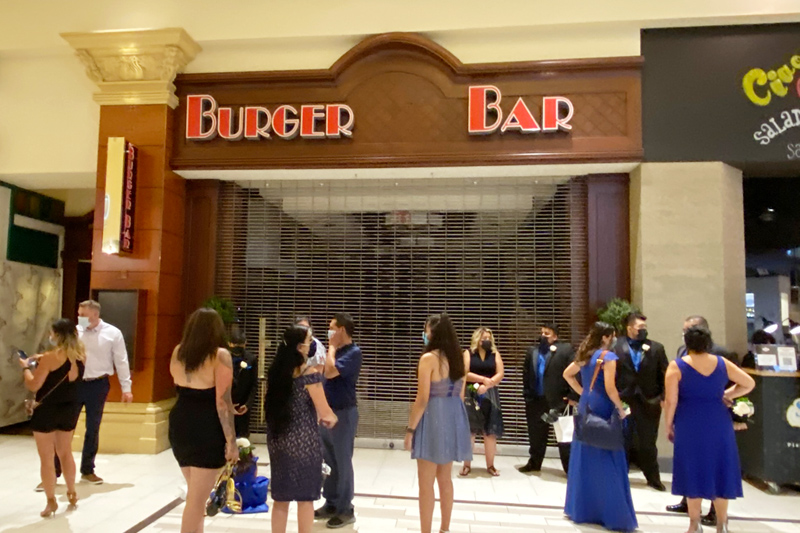 The backstory of Burger Bar has lots of twists and turns. The restaurant got raves and a passionate following when it was run by chef Hubert Keller.
Burger Bar closed in Jan. 2021 and management of the restaurant was brought in-house, which isn't uncommon, but in this case, it's been fairly disastrous. We only visited once under MGM Resorts management, and there was such chaos, we never actually got to order anything and bailed.
Agree. Pass on Burger Bar and hit Slice next door. Reliable pizza, quick service and they make it easy to give feedback. Fun fact: You can't order a slice at Slice, other than to-go. https://t.co/zGjeMzlDoE pic.twitter.com/COYzYUxrZ6

— Vital Vegas (@VitalVegas) July 16, 2022
It seems MGM Resorts and Hubert Keller couldn't find common ground on his lease renewals (he also operated Fleur), so Keller was shown the door. From what we're told, not in a nice way given the history of success with his restaurants at Mandalay Bay.
Now, it appears Burger Bar's days are numbered, again.
Wahlburgers is good but not great. Should this industry chatter come to fruition, it'll be just another burger place with elevated pricing in a casino retail promenade.
Hubert Keller may not have the box office clout of Mark Wahlberg, but the original Burger Bar was a superstar, and it is missed by many loyal fans.