Elated players with sweat-spotted shirts bounce and shuffle across the compact courts. Sneakers squeak as their paddles strike the hollow, plastic balls over nets in off-beat staccatos.
They are playing pickleball, a unique fusion of tennis and pingpong, and many note that it's the fastest-growing sport in the country. Locally, municipalities are racing to keep up with the demand for public courts.
For players who spoke to the Las Vegas Review-Journal, the pastime that has been around for decades — but exploded during the pandemic — has altered their lives in ways they never had imagined.
"It's my life. It's all I do," said Sheila Stewart, the founder of the Neon Picklers meetup group that mostly caters to seniors and has grown from five to 460 members in just over a year.
The 71-year-old single mother said the sport helped her get back in shape and has mostly replaced her previous sole social — albeit lonelier — activity of playing cards. She said all that sitting made her feel "ancient."
"One of the things about seniors, you start losing your mental acuity a little bit," she said. "You start to become slower."
Now, she said, her reflexes have improved significantly, and she is no longer afraid to drive on freeways.
"I feel 30 years younger," she added.
On a recent evening, with temperatures still scorching at around 107 degrees, Stewart, who sported pickleball-themed earrings, met up with about a dozen others to play a few rounds in a northwest valley park.
Augie Costanzo with the Sun City Summerlin Pickleball Club and treasurer of the Southern Nevada Pickleball Association was there.
'This saved my body'
Costanzo, 80, who enjoyed softball and photography in his earlier years, plays every day.
"As I've seen it in my life, without pickleball, I probably would've been crippled, not moving around," he said. "This saved my body. It really did."
The Durango Hills Park pickleball courts were packed during a late-June morning. Players placed their paddles on a holder, a wait system of sorts, to determine who's next.
The Association of Pickleball Professionals estimated that 36.5 million players participated in the sport in the U.S. last year.
Brien Vokits, president of the Southern Nevada Pickleball Association, estimates that there are 3,300 "core" pickleball players locally, meaning that they each played at least eight times last year.
"And then there's quite a few casual pickleball players we don't keep track of in those statistics," he said.
Association figures show that a third of local pickleball players are seniors, with the 20-to-40-year-old demographic growing fast. Beginning in 2022, the organization made strides to teach the sport to children, training 40 physical education teachers.
"We're looking at the next generation," Vokits said. "Demographics are growing, but the number of kids that are coming into the sport is wonderful, and they are naturals at playing pickleball. It's amazing how quickly they adapt to the sport."
The demand now at Durango Hills Park was unimaginable a decade ago when Vokits' wife bought six paddles for their walking group of about a dozen friends and they first tried the sport.
"People would walk their dogs, and we'd go, 'You want to try pickleball?'" said Patti Chess, one of the organization's directors. "There weren't enough people."
Recently, for the first time, Stewart saw an argument erupt at the overpacked courts at Aloha Shores Park over the paddle system and players not wanting to get off.
While local governments have increasingly built new courts or repurposed others for pickleball, they're struggling to keep up with the growing demand, she said.
"We really are desperate and need more courts," she said.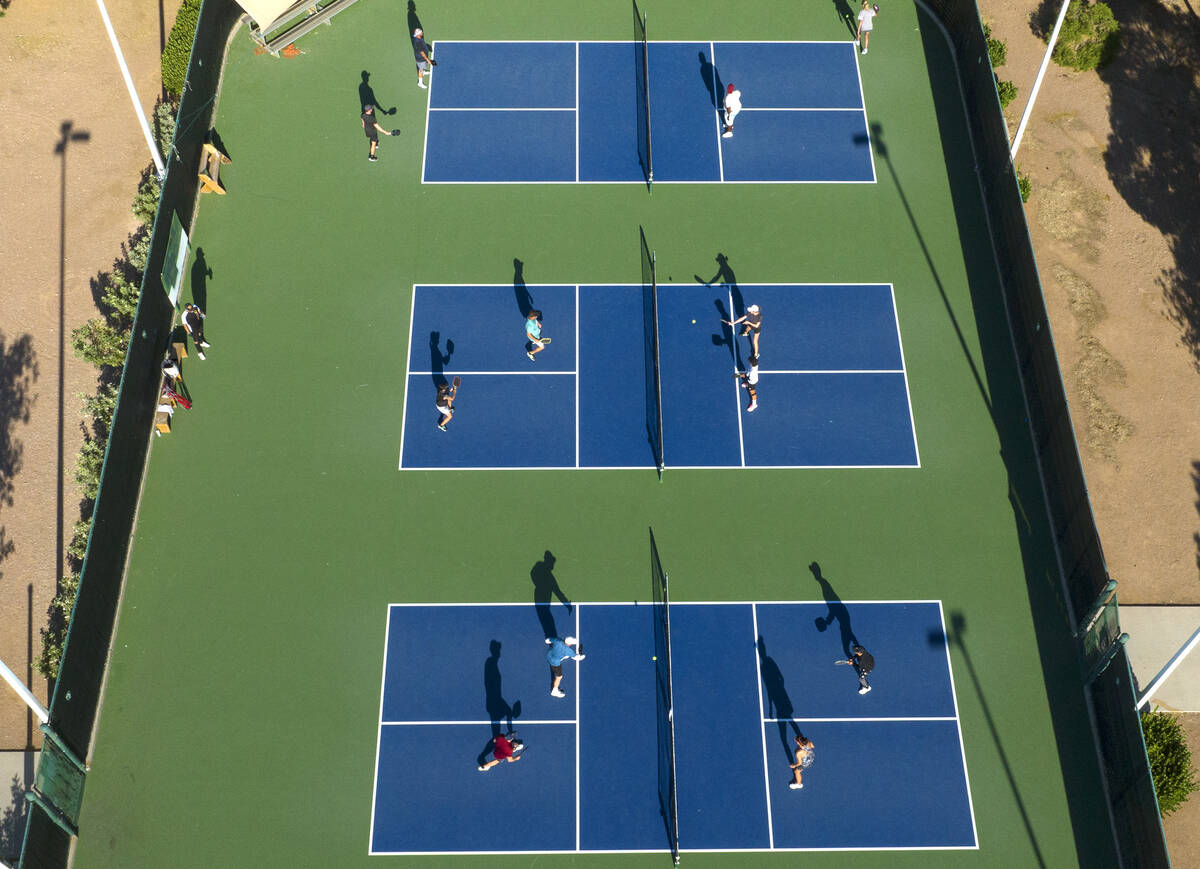 Demand surpasses supply
Steve Ford, the city of Las Vegas' director of parks, recreation and cultural affairs, said he gets monthly calls and emails from residents inquiring about more courts to add to the existing ones within city limits. The city has 23 outdoor courts at five parks.
"We're trying to meet the demand as best we can with budget permitting and space permitting," Ford said.
The city also offers indoor pickleball at two recreation centers and is planning to install courts at the Centennial Hills, Lorenzi, Patriot and Children's Memorial parks, according to a city spokesperson.
North Las Vegas has pickleball at three public locations. Henderson and Clark County each have courts at six locations, including a 24-court complex at the county's Sunset Park.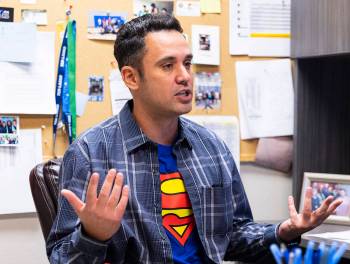 Russell Thompson, Clark County's recreation and cultural specialist, said the county has implemented pickleball in its recreation centers and is looking to expand access as more parks are designed.
"Pickleball is an amazing sport," he said. "It doesn't matter if you're a child, teen, adult. … It's always a great way to compete in a great, safe environment."
While the pandemic "hurt the world in many ways, I think it helped the sport," he said.
Thompson compared the growth in popularity to that of yoga, Pilates and line dancing.
The city of Las Vegas has built new pickleball courts or repurposed shuffleboard and roller hockey rinks. Ford said they're fairly inexpensive compared with building baseball fields, for example.
He said he doesn't see the exploding demand dimming anytime in the near future, but Las Vegas will continue to adapt to the community's recreation needs.
"If pickleball dies and roller hockey comes back," he said, "we'll take the nets down, and we'll have roller hockey again."
Ford's department goal for the foreseeable future is for every one of the city's six wards to have at least a couple of courts.
The city's most ambitious project yet is a 30-court complex at Wayne Bunker Park, at 7351 W. Alexander Road in the northwest valley.
Neighborhood residents and pickleball aficionados came head-to-head in April during a Las Vegas City Council meeting, at which the council ultimately approved accepting a $12 million grant from the Bureau of Land Management to develop the center.
No one who spoke against the item disparaged the sport or argued against the need for more courts. Their concern was noise-related.
"We do need more pickleball. We just don't need it 50 feet from my house, to where I'm going to be exposed to this 24/7," said Steven Priedel, who clapped while mimicking the noise of a paddle hitting a ball.
Ford said the city was working with a consultant to address the concerns related to the noise and bright lights.
The final design, which is still being worked out, might — for example — have lights that don't "bleed out" and noise mitigation such as sound panels, higher walls, trees or "anything that will dampen the sound," Ford said.
Tom Yeh, a Las Vegas-based professional pickleball player who coaches the game at Life Time Fitness in Summerlin and Green Valley, said noise and light concerns could be solved with more public indoor places to play.
With valley breezes, and the heat, the sport is better enjoyed under a roof, he added.
"People don't realize it's fun and it feels good to play outdoors, but because it's a light piece of plastic ball, it gets affected by wind quite a bit, more so than tennis balls," Yeh said.
Second chance at a pro career
A bicycle crash slashed Yeh's collegiate tennis career and hampered his dream of becoming a pro.
"After that I was never the same," the 56-year-old said. He withdrew from college.
Two years ago, his boss and mentor invited him to a pickleball court.
"I didn't even know what pickleball was," Yeh said. "I had no clue."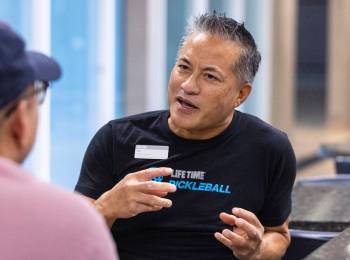 It didn't take long to get hooked, he said.
"When you hit (the ball), it gives me that sensation that you just want to keep repeating," he said. "When you hit the right spot and when you make that great shot, whether it's a flick or a groundstroke, I can't describe it. It's an amazing feeling, and it feels good to play with a bunch of people who you just met."
In 2022, Yeh competed in 32 official tournaments, winning 30 gold medals, as well as a silver and a bronze, and earning a national ranking.
Yeh expects pickleball to gain international acclaim and maybe a spot in future Olympic Games.
Playing and teaching the sport has given him a newfound appreciation for his life.
"I'm healthier, I'm happier, I'm more active and meeting new people every day, and I have more joy in my life," he said.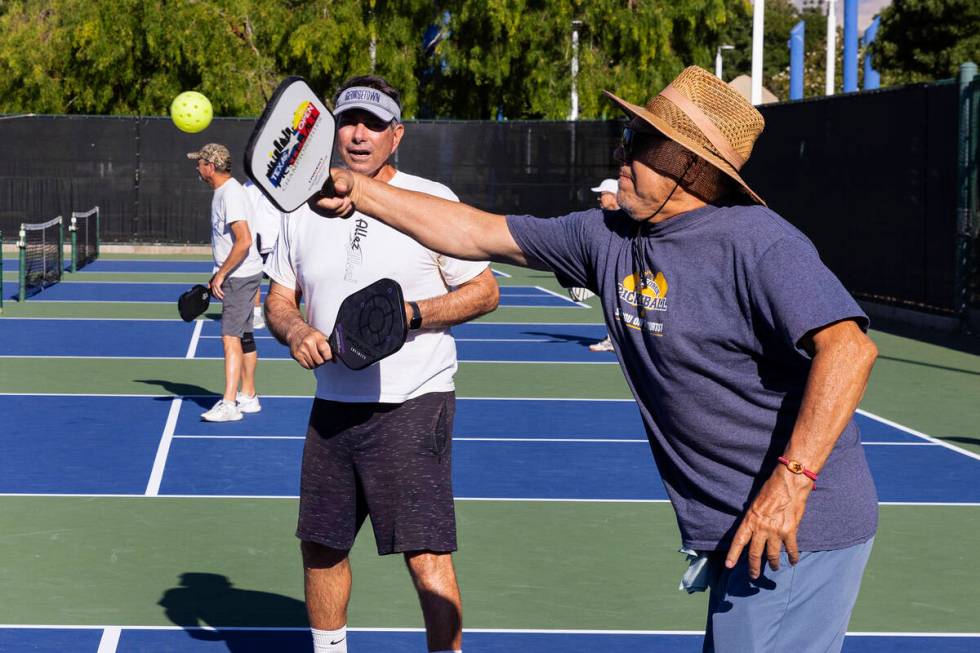 'Treat you like a friend'
One doesn't need to be a pro to become immersed in the sport and its culture, and the players the Review-Journal spoke to mentioned how easy it was to pick up its rules and lingo.
Only the side serving, either in singles or doubles, can earn a point. A game goes to 11 points with a two-point winning differential. Players can't step into the area in front of the net called "the kitchen."
Players paddle "dinker" or "banger" shots on courts that resemble tennis courts but are smaller.
Some locals have custom Nevada license plates themed around the sport.
Chess, a retired social worker, wears a necklace with a paddle pendant.
"If they are wearing pickleball jewelry, they have gone too far, they are beyond obsessed," she quipped.
Still, she said many fellow players have asked her where she bought it so they could get their own.
Unlike other recreational sports, such as soccer or softball, any person of any age can go to a court with minimal gear and be welcomed to learn and join, she said.
"Other sports are all about competition," she said. "Now we are competitive, but we treat you like a friend till you beat me on the court," she joked.
Louie Williams, 49, a seasoned tennis player, said he showed up to a court for the first time with a competitive spirit and initially saw the game below his level.
"Don't tell me about that old sport," he remembered thinking. "I'm not broken down enough to play pickleball."
It didn't take long for him to be outplayed in the sport, which he described as "physical chess."
He said that after he left the court, he called a friend to meet him at a sporting goods store because he had just found his new sport.
Stewart, founder of the Neon Picklers, said she has witnessed this passion among many others who have been introduced to the sport.
"I don't care what age you are, they fall in love and they're addicted," Stewart said. "They come back, and they come back. It's just awesome."
Contact Ricardo Torres-Cortez at rtorres@reviewjournal.com. Follow @rickytwrites on Twitter.