Click here to browse our Real Estate Agent Directory and contact top-rated agents in your area!
Remodeling a kitchen is one of the most popular home improvement projects. But, unfortunately, it's also one of the most expensive remodels while tremendously impacting your home's value. But how much does it cost to remodel a kitchen?
Like all home improvement projects, it depends. For example, to redo a kitchen in full could mean investing tens of thousands of dollars, whereas redecorating a small kitchen is a different story. For a solid upgrade, expect to spend $25,000, or $150 per square foot. But this is just a ballpark figure.
If you're considering home renovation possibilities for your kitchen space in 2023, here's what you need to know about the costs.
How Much Does it Cost to Remodel a Kitchen – Table Of Contents
What is the Average Cost to Remodel a Kitchen?
Committing to a complete renovation means being prepared for a range of quotes. According to the Center for Joint Housing Studies at Harvard University, homeowners spend an average of $6,329 for minor changes and $42,816 for a full kitchen remodel.
Note that this study only tells you what other people spend. There's a broad spectrum of costs for remodeling. Adequate planning before drafting a team of contractors will help you save money and avoid overpaying.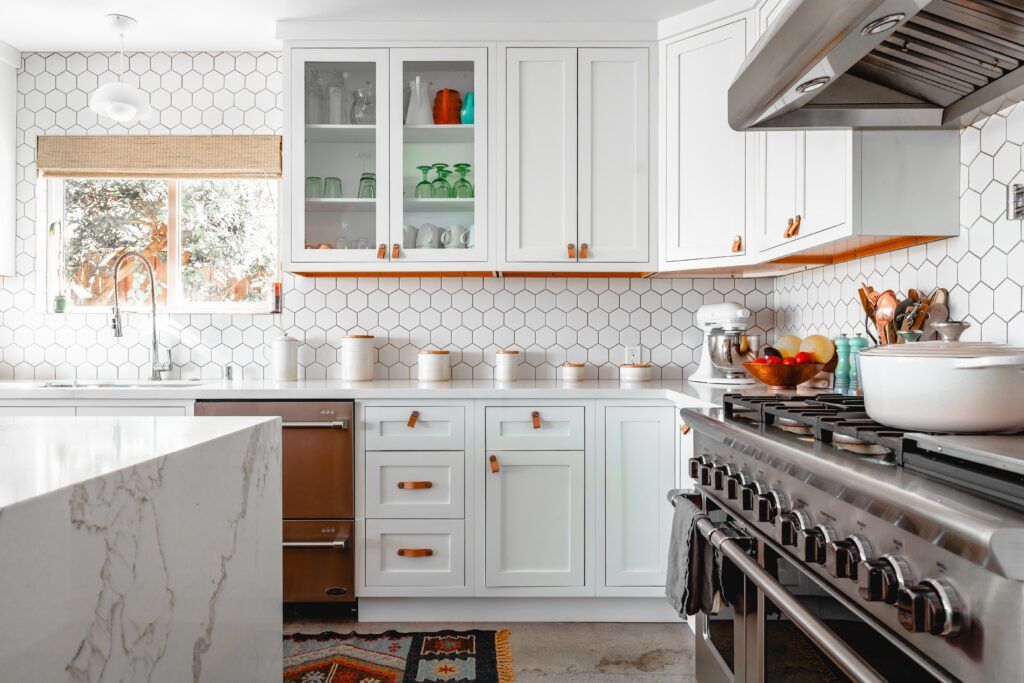 In the year ahead, homeowners must be prepared for their quotes tobe much higher than previous estimates. The construction industry has changed due to the rampant cost of inflation. The Construction Cost Index reveals that materials and labor for home building are expected to rise by 14.1%, with costs continuing to rise until inflation is brought under control.
Giving your extra budget padding will prevent any nasty surprises, such as needing financing or compromising your dream kitchen.
Kitchen Remodel Costs By Scale of Project
Anyone investigating the question of "How much does it cost to remodel a kitchen?" first needs to establish the scale of their project. Remodels weren't made equal. Changing the cabinets is very different from ripping out and replacing everything. The price will adjust accordingly.
To give you a basic idea of varying costs, here's a rundown of your costs according to the ambition of your project.
Small Kitchen or Minor Remodel
Opting for a small kitchen remodel is a chance to give your existing space a facelift without investing in an entirely new kitchen. According to the latest studies, the most popular kitchen feature upgrades include the backsplash, countertops, faucets, and sinks.
Increasing your home's marketability with a small remodel is easy by focusing on the most dated elements of the room. Minor remodels are easy for homeowners because they cause minimum disruption. Overall, you can expect these remodels to range from $10,000 to $15,000.
Here are some of the best upgrades for these types of remodels:
·        Paint Your Cabinets – According to the Washington Post, you can go DIY by painting the cabinets for just $200 to $600. Try going beyond white and opting for blue, green, or a sandy tone.
·        Opt for Affordable Tile – Tile can cost just a few dollars per square foot. The most affordable tiles are self-adhesive peel-and-stick tiles. Brilliant white subway-style tables are among the kitchen's most popular and long-lasting tile choices.
·        Install a New Countertop – Formica countertops can run just $75 to $150 per square foot, making it one of the most affordable upgrades.
·        Upgrade the Appliances – Adding new appliances or updating old ones is the simplest way of enhancing your kitchen's functionality.
Choosing a minor kitchen remodel means being prepared to compromise or limiting the project's scope. Splurging on just one or two elements can make a massive difference to the space.
The relatively small outlay for a minor remodel will yield the largest return. In addition, minor kitchen remodels are more likely to concentrate on the features and amenities that matter most to homebuyers.
Medium Kitchen Remodel
Homeowners with larger budgets may consider a medium kitchen remodel. These remodels run from $15,000 to $30,000 and offer more wiggle room for selecting better-quality materials.
Great cabinets with quartz countertops are a real luxury and can add thousands to the value of your home.
Follow these tips for getting the most out of a medium kitchen remodel:
·        Maintain Your Layout – Avoid structural, plumbing, and electricity costs by keeping the general layout. You can still rejuvenate your kitchen space without making massive changes to the layout.
·        Reface the Cabinets – You don't always have to purchase new cabinets. Instead, think about refacing the cabinets to save thousands. Refacing will give you new doors, fronts, and other hardware.
·        Sleek Hardware – Simple, sleek, and contemporary hardware can make all the difference. Remember, just because buyers like something doesn't mean they'll add a line item when offering a price for your home.
As part of this remodel, you may also want to add new elements to your kitchen. For example, adding a kitchen island can create a social space while providing more space to put things. How much does it cost to remodel a kitchen to include an island? Islands can run from as little as $800 to as much as $20,000.
Large Kitchen or Major Remodel
Pulling the trigger on a large kitchen remodel is an opportunity to give your home an edge over the competition. Creating a genuinely high-end home starts and ends with the kitchen. If you're budgeting for a major remodel, expect to spend anything from $30,000 to $64,000.
Consider reconfiguring the layout, adjusting the electrical lines, and revamping the plumbing. Ambitious homeowners may even want to start moving walls to alter the look and feel of their space.
It's a chance to mix in high-end finishes, open up the floor plan, and invest in top-of-the-line appliances for avid chefs.
Think about adding amenities not found in the average kitchen. For example, the National Association of Home Builders revealed that 81% of buyers craved a walk-in pantry in their kitchens.
Kitchen Expansion
Expanding your kitchen is a different proposition because you're transforming the floor plan of your home. Undoubtedly you'll need to worry about plumbing, electricity, and structural work to accommodate your new kitchen.
These projects can take months to complete. Depending on your budget, you can mix high-end and low-end materials to cushion the blow of taking a sledgehammer to the walls.
Kitchen expansions can easily top $100,000 if you're dreaming of a high-end kitchen built for efficiency, cutting-edge appliances, and functionality.
Average Cost of Kitchen Renovation Features
Working out the average cost to remodel a kitchen is challenging because the answer usually depends on which features you choose and how much you want to invest in them.
Sometimes you can get the most bang for your buck from investing in relatively small features in your kitchen. But, of course, you're not obliged to opt for high-end items in every area of your condition. Instead, target your splurges to balance cost with the return.
To make life easier for you, we're going to break down the kitchen remodel cost of the most commonly upgraded features.
Cabinets
Replacing your cabinets is one of the simplest ways to change a kitchen's look and feel. Unfortunately, cabinets are also some of the costliest features to upgrade, especially in larger kitchens.
Wood cabinets can run anywhere from $5,000 to $25,000, depending on the type of wood used. Alternatively, high-end materials like stainless steel could crank up the price to $38,000.
Consider repainting or refacing if you want to keep your cabinet costs down.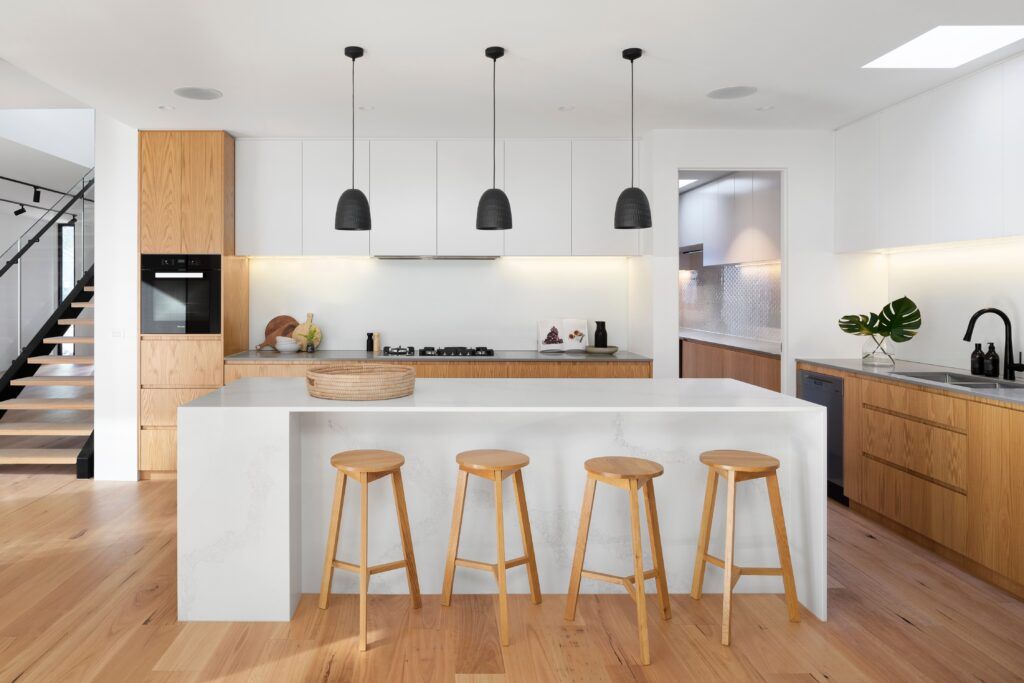 Countertops
Countertops should be a priority if you're looking to boost your home's value. Most real estate experts recommend that if you only have one feature to splurge on, you should make it your countertops.
According to HomeAdvisor, upgrading your countertops can recoup 25% of their cost reflected in your home's overall value. However, opting for trendy or fad styles could come back to bite you. Instead, avoid anything loud and stick to a timeless design.
Natural stone in a natural color will always be a winner for most buyers. So expect to spend anywhere from $825 to $3,850 on your countertops.
Alternatively, consider installing granite countertops in your kitchen. According to the latest statistics, 55% of homebuyers are willing to offer more for a home with granite countertops. In addition, the popularity of granite is a long-standing trend, so it will stay in fashion.
Plenty of other materials are less expensive upfront, but they're not going to give you the bang for your buck that you expect.
Appliances
Appliances are among the last things you should purchase. However, if you're altering the layout of your kitchen or expanding it, allow the project to proceed before you choose which appliances will suit your kitchen.
Estimating and visualizing measurements beforehand is tricky, and the last thing you want is to find your brand-new appliance doesn't fit.
Deals are available even on high-end appliances. Local box stores and manufacturers' rebates are just some ways to spend less on top appliances.
But how much does it cost to remodel a kitchen with new appliances? Most homeowners spend between $320 and $4,030 on upgraded appliances.
To get the highest value from appliance upgrades, certain features and appliance types are in higher demand than others. Buyers are most commonly interested in appliances that have four key aspects:
·        Coordinated with the rest of the kitchen
·        Eco-friendly
·        Energy-efficient
·        Compatible with smart devices
Think about the appliances that align with modern lifestyles. A state-of-the-art refrigerator with filtered water dispensers, LCD door screens, and PowerFreeze settings is guaranteed to turn the heads of future buyers.
Labor & Installation
Installation and labor costs make up a huge portion of the total costs of kitchen remodeling. Materials alone have soared in price due to rising inflation, whereas labor costs have also climbed because of increased demand for home improvement projects.
Typically, you can expect to spend 30-35% of your budget on installation and labor costs. But, again, where you live, the features installed, and the size of your project will influence how much of an impact these costs have on the final total.
Be aware that labor costs are significantly higher in major metropolitan areas like New York City and Los Angeles. While most estimates range between $3,500 and $6,000, it's not uncommon for certain municipalities to experience higher prices.
How Much Can You Save with DIY?
Some homeowners may wonder how much a DIY kitchen remodel can save them. Of course, taking out the labor costs can save significant portions, but only some projects will be suited to a DIY approach.
Simple projects like repainting the cabinets, installing a new backsplash, or retiling can be done at home with minimal experience. However, anything that requires changing the layout will require a professional to intervene.
Be aware that electrical, plumbing, and HVAC systems can cause serious damage if addressed by a novice, so it's best to call a professional to negate the risk.
There are benefits to hiring a professional, including
·        Experience – Professional experience means a higher quality finish in your kitchen. They can also make targeted suggestions to ensure you get the most out of your chosen design. An experienced contractor is invaluable in planning and managing your project from start to finish.
·        Expertise – Countless homeowners have called their insurance companies sheepishly because of a pipe that started gushing water. Contractors can handle any possibility, ensuring a hassle-free installation. If you don't have the expertise, it's best to leave it to the professionals.
·        Insurance – All professionals are insured if something goes wrong. Attempting a DIY kitchen remodel means you're flying without a safety net. Any problems mean you won't be out of pocket if disaster strikes.
Hiring a professional also saves you money in other ways. High-end suppliers often don't deal with the general public. In addition, purchasing these products requires you to prove that you're a licensed contractor.
You need to get some serious material savings if you rely on the Internet and big-box stores.
How Much Can a Kitchen Remodel Add to Your Home Value?
Kitchen remodels are some of the most valuable upgrades you can make to your home. Whether you're looking to sell in the near future or thinking long-term, you want to know that you're maximizing the value added to your home.
No remodel will lead to a 100% gain on your investment, but kitchen remodels are among the best home improvement projects for recouping costs. It's not inconceivable for a major home improvement project to add anywhere from $10,000 to $20,000 to the value of your home.
The extent of your remodel will impact the exact dollar figure. Typically, minor kitchen remodels have the largest rate of return. Minor remodels costing around $20,000 can recoup 81% of your total investment.
On the other hand, major kitchen remodels may recoup just 59% with a mid-range finish. Heavily upscaled kitchens see a return of 54% nationwide.
Regional variations also come into play. Where you live will determine how much your home value will increase after completing your kitchen remodel. Minor remodeling projects can lead to a return of nearly 93% in states like:
·        Washington
·        Alaska
·        Oregon
·        California
·        Hawaii
In other words, the states with the highest cost of living metrics see the biggest rate of return on minor kitchen remodels. On the other hand, low-cost-of-living states like Missouri, Kansas, Iowa, and Nebraska see a slightly lower return.
Regardless of where you live, it's wise to contact a local real estate agent if you're concerned about how your remodeling project will impact the value of your home. Local real estate professionals can provide customized numbers on what matters most to buyers in your market.
Features that Increase Home Value the Most
The reason why minor kitchen remodels have a higher rate of return is that most of the features that buyers want don't cost as much to incorporate into your kitchen space.
The key features that generate the most selling power are the same in every state, including:
·        Appliances
·        Cabinets
·        Countertops/backsplashes
·        Flooring
·        Finishing touches
However, market conditions lead to different returns. Flooring is a perfect example of this. Lower-cost markets see the best return with high-quality laminate flooring. High-end markets see greater returns on exotic hardwood floors geared for durability and longevity.
Determining how much it costs to remodel a kitchen starts with your priorities. If you're focused on creating your dream kitchen, think more about what you value the most instead of what a future buyer might want.
Find Your Local Real Estate Expert Today
Consulting with a local real estate expert is crucial to get the most out of your kitchen remodel. Even if you're not selling shortly, talking to a local expert can provide inspiration and guidance on the best upgrades for your kitchen.Fast Expert makes it simple to find a local realtor in your area. Just enter your zip code and city to get a shortlist of the most successful real estate agents in your area.