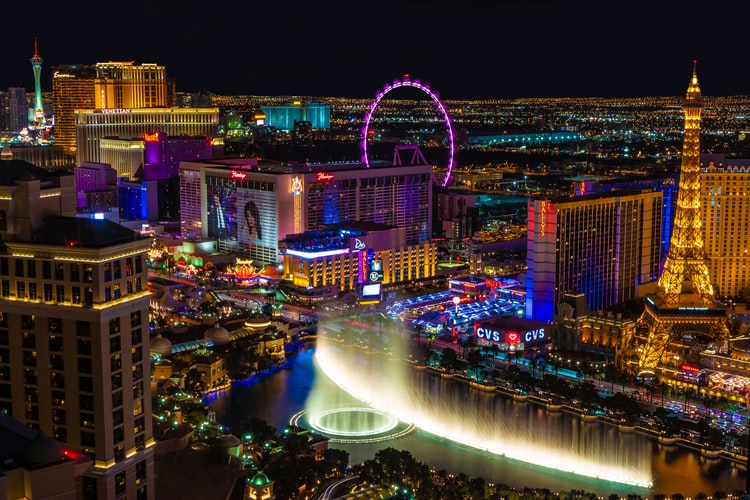 Viva Las Vegas! The land where the lights never go out, and the
stakes are always high. Travel this desert oasis in style with a whirlwind tour
of Sin City's glitziest glamorous casinos. Try
your luck at the poker tables around town, dine at gourmet restaurants, stay in
palatial suites, enjoy high-end spa services, and so much more at these fancy
institutions. High rollers and thrill seekers alike flock to these dreamy
worlds where shimmering chandeliers, cascading waterfalls, and marble-clad
interiors set the stage for unforgettable moments.  
From the legendary Bellagio and its iconic dancing fountains to
the classy canals of the Venetian, Vegas has a host of fabulous casinos for you
to choose from. And they're not all on the Strip! Discover hidden gems tucked
away in the heart of the city and revel in all the spectacle Las Vegas has to
offer. Grab your lucky charm, pack your finest duds, and uncover the magic that
awaits within these casino's shimmering walls. 
Wynn Las Vegas
This Forbes
Five Star Luxury Hotel epitomizes modern luxury with
its stunning architecture, contemporary art installations, and meticulously
landscaped gardens. 
The casino floor, featuring a wide assortment of table games and
slots, is a gambler's paradise. Truly serious gamers can indulge in exclusive
experiences with private gaming salons that include personalized services and
high-stakes bets.
Catch world-class shows such as the recently reimagined Awakening!
This enthralling production has bespoke costumes, original music, and mythical
prowess, and all take place on a 60-foot 360-degree prismatic stage that shifts
and undulates in sync with the talented performers. 
Wynn Las Vegas also has multiple grand pools where you can soak up
the sun in a private cabana with attentive service that keeps the cocktails
coming. 
For food, choose from fine dining at Wynn's Steakhouse or grab a
casual bite at the hotel's delicious café. If you need even more relaxation
after all that gambling, there's an award-winning spa with rejuvenating
treatments and saunas.  
Stay in spacious guest rooms with modern comforts and luxurious
amenities where you'll enjoy city sights from floor-to-ceiling windows. Capture
the vibrant energy of the Strip while relaxing in a well-appointed room at the
Wynn. This lavish escape is much more than just a casino!  
Bellagio 
The Bellagio is perhaps Las Vegas's most iconic and luxurious
hotel and casino. Standing tall at the heart of the Strip, the Bellagio exudes
sophistication. Enjoy refined opulence and the mesmerizing Fountains of
Bellagio, which are captivatingly choreographed to music and regularly leave
observers awestruck.  
With the wide assortment of table games and slot machines
available, high rollers and casual gamblers will be at home here. But the
Bellagio is so much more than just a place to gamble. The Bellagio Gallery of
Fine Art includes rotating exhibits featuring renowned names such as Warhol,
Van Gogh, and Monet. Take in the culture before you dine at one of Bellagio's
several Michelin-starred restaurants.  
This casino's luxury permeates its accommodations with elegantly
appointed guest rooms and suites showing off the Strip's panoramic views.
Spacious layouts and lavish amenities will leave you spellbound when you sleep
at the Bellagio. 
Continue your immersive experience at the Conservatory &
Botanical Gardens, which feature seasonal displays that transform the space
into an enchanting wonderland. There's also a spa that offers indulgent
treatments, Cirque du Soleil shows, pools galore, and plenty of places to eat
out. 
Relax in the essence of luxury at the Bellagio—you'll be
transported to a dazzling universe of refinement and realization when you
visit!
Red Rock Casino Resort & Spa
Nestled away from the neon lights of the Strip, the Red Rock is a
hidden gem that offers a tranquil escape in the heart of the desert. This
casino is a haven for nature lovers and adventure seekers near the magnificent
Red Rock Canyon National Conversation Area.  
A unique blend of natural beauty and modern luxury, the Red Rock
Casino boasts a wide array of gaming options for all preferences. Play classic
table games or state-of-the-art slots.  
There's also a plethora of amenities, such as the Sandbar Pool
area, where you can unwind in beachside ambiance with drinks and food. The
resort's renowned spa offers soothing massages, revitalizing facials, and
refreshing body treatments. It's your stop for tranquility and
well-being. 
Sumptuous Italian cuisine, a buffet option, and a steakhouse cater
to all palates, so you're sure not to go hungry. If nature and adventure are
what you're after, you can visit Red
Rock Canyon for endless fun before retiring
to your world-class accommodations at the Red Rock. Soak up the serenity of
nature and the excitement of Vegas with a visit to this beautiful casino. It's
a mesmerizing, memorable experience unlike any other. 
The Venetian
Journey to Italy's most romantic city without leaving Las Vegas.
This grand casino meticulously recreates the enchanting ambiance of Venice,
complete with real-life gondola rides along the Grand Canal. An architectural
marvel, the Venetian features intricately designed frescoes, gracefully arching
bridges, actual canals, and specially designed facades that bring you straight
back to the refinement of the Renaissance era. The Venetian's glamorous layout
offers an immersive experience that takes visitors straight to the romantic and
charming streets replete with old-world opulence. 
In addition to stunning aesthetics, the Venetian has a spacious
casino floor with an extensive selection of games. It's also home to the
renowned Venetian Poker Room, where poker enthusiasts can test their skills
against seasoned players. 
Shopaholics will be at home at the Grand Canal Shoppes,
an upscale shopping arcade with designer boutiques like Ferragamo, Breitling,
and Burberry.  
Once you're all shopped out, you can savor exquisite Italian food
from restaurants run by celebrity chefs like Thomas Keller and Mario Batali.
Not in the mood for Italian food? Then dine at its other international
restaurants for an innovative and delicious gastronomic journey. 
The Venetian's accommodations exude elegance and luxury with
spacious suites, plush furnishings, and all the amenities you need for a lavish
retreat. The entertainment is equally as captivating, with thrilling live
performances and classic stage productions—voyage to the Venetian for a visit
to a real of beauty, luxury, and romance. Italy can wait!