Click here to browse our Real Estate Agent Directory and contact top-rated agents in your area!
Key Colony Beach, located in the Florida Keys, is a hidden gem that offers a diverse range of real estate options, making it an ideal destination for those looking to invest in a vacation home or rental property.
In this ultimate guide to Key Colony Beach real estate, we will explore the various types of properties available, the cost of real estate, vacation rental opportunities, and the appeal of the area for boating enthusiasts.
Home Types
Key Colony Beach presents an array of real estate choices to suit different preferences and lifestyles. Throughout this charming beach town, you will find a mix of single-family homes, full duplexes, half duplexes, townhomes, and condos.
Single Family Homes
If you're in search of a single-family home, you'll want to focus your search between 11th Street and 15th Circle. These homes offer a wide range of architectural styles, from classic Florida designs to contemporary modern constructions.
One advantage of single-family homes in Key Colony Beach is they typically offer larger lots with more waterfront access.
Full Duplexes
While full duplexes are rare to find as intact properties, there are a few remaining in Key Colony Beach. Buying a full duplex translates to owning both residences. Often an owner lives on one side and rents out the other half duplex.
Yet, many owners have chosen to divide and sell each side separately. Therefore finding a full duplex with a single owner is a challenging task.
Half Duplexes
Half duplexes are a popular option in Key Colony Beach. Typically these properties are ground level with 30 feet of dockage.  They are made out of concrete block and stucco and have been around since the 1960's.
These properties may feature multiple entry doors, providing separate access to different sections of the building. Some half duplexes have undergone renovations, giving them a modern look and feel.
Condos and Townhomes
Condos and townhomes in Key Colony Beach are strategically positioned along West Ocean Drive or East Ocean Drive, providing breathtaking ocean views from the edge of the island.
It's important to note that only one condo in Key Colony Beach offers private docks exclusively for its owners. If having a private dock is a priority, exploring other areas in the Florida Keys may be necessary.
Waterfront Properties
Key Colony Beach primarily consists of waterfront properties along a canal.  The canals are a beautiful blue-green color and offer stunning views and direct access to the ocean and the gulf.
However, there are also properties known as "dry lots" that are not located directly on the water. These dry lots provide an alternative option for those seeking real estate in Key Colony Beach.
East Facing and West Facing
When searching for a home in Key Colony Beach, you will notice a lot of the listings will say, "East Facing" or "West Facing." 
If the home is "East Facing," this means that when you are in your backyard by the canal, in the late afternoon, you will get shade. 
If you are on the "West Facing," side, you will get sunshine in the later afternoon. 
East-facing is preferred because it can get HOT, especially during the summer.  If you are going to live in Key Colony Beach full time, it's recommended that you purchase an "East Facing," property.  If you are going to be a snowbird and only come in the winter months, "West Facing," could be a good option.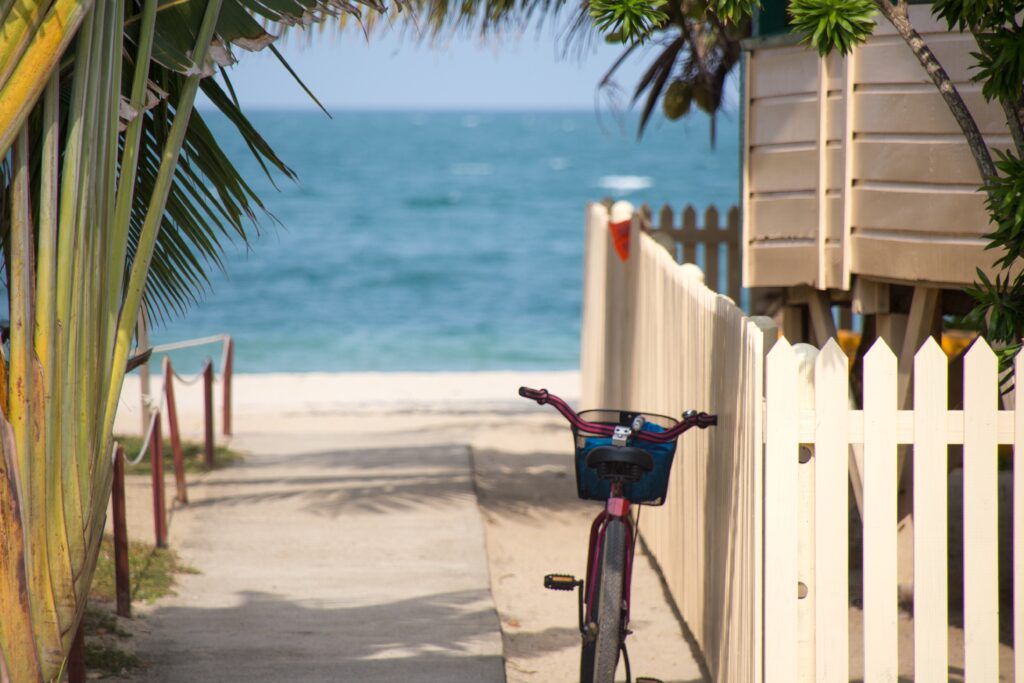 Costs & Opportunities
Key Colony Beach's desirability and exceptional location contribute to the higher cost of real estate in the area compared to other nearby locations. Owning a home in this sought-after destination is considered a valuable investment due to its beauty and popularity among tourists and vacationers.
Investment Opportunity
For those looking to generate income through real estate, Key Colony Beach is an attractive choice for vacation rentals. The island allows weekly rentals, making it one of the most popular vacation rental locations in the Florida Keys.
Currently, there are more vacation rentals than full-time residences in the area. Local property management companies typically charge around 20 percent of the rental income as a management fee, making it a lucrative option for property owners.
Two Income Seasons
Key Colony Beach experiences two distinct vacation rental seasons.
The first season, from January to April, attracts "snowbirds" seeking warmth during the winter months.
The second season falls in the summer months of June to August, drawing families from Florida and beyond for summer vacations.
September, October, and November tend to be slower months, with fewer visitors compared to the peak seasons.
While some owners choose to keep their properties as second homes and not rent them out, it is not a common practice. Most homeowners take advantage of the lucrative rental market and rent out their properties to generate additional revenue.
The Uniqueness of Key Colony Beach
The Florida Keys offer a lifestyle of relaxed, beachfront living, and Key Colony Beach is no exception. With most of the properties on the waterfront, it provides vacation-like living. Before purchasing a property, it's important to note a couple of other unique points.
Canals
One of the highlights of Key Colony Beach is its picturesque canals, providing exceptional boating opportunities. The canals are around 200 feet wide, allowing for smooth navigation and ample space for boaters.
No Mailboxes
There are NO mailboxes in Key Colony Beach.  The city elected to have a Post Office with P.O. Boxes for the community so that all the neighbors could come together and have a place to meet and chat.
Live in the Florida Keys
If you love the idea of either living on the water or near the water, Key Colony Beach is a great option.  Located in the Middle Keys around Mile Marker 53, Key Colony Beach offers a variety of waterfront options and activities!  It's one of the only islands in the Florida Keys that has a true community feel to it.
Find a FastExpert Realtor to guide you, or contact, me, Amy Prumo, to find your perfect home!
MORE GREAT INFO:
>>The Best (and Worst) Time to Sell Your Home
>>12 Mistakes to Avoid When Selling Your Home