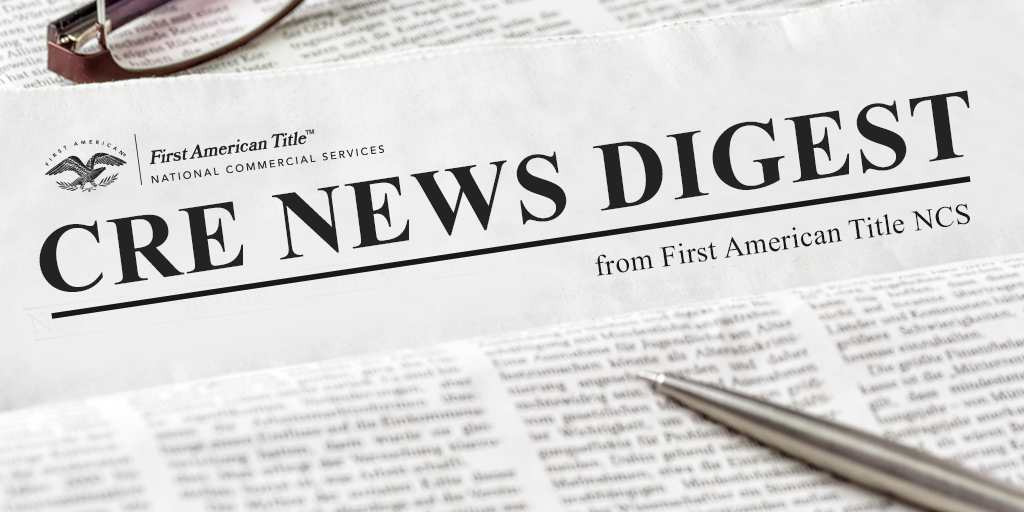 Welcome to the CRE News Digest from First American Title NCS, where we explore the biggest stories in commercial real estate. As a legacy brand working in CRE for more than 120 years, First American keenly knows the market and the forces that are impacting our clients' businesses.
The Big Picture: Commercial Real Estate Faces Downturn
Economic turbulence following the recent banking collapses, upcoming mass mortgage refinancing, and fears of an impending debt default have cast a shadow on the commercial real estate market. 
Last month J.P. Morgan CEO Jamie Dimon warned shareholders of the effects of the banking crisis on the commercial real estate industry, sharing that CRE will likely see a shrinkage of available credit as banks scale back on lending. This spring's bank failures have left the CRE industry on edge; according to some estimates, more than 80% of bank loans for commercial properties are from regional banks.
The industry also faces looming refinancing deadlines. Early this spring, Morgan Stanley published a report highlighting that over the next two years, more than 50% of $1.9 trillion in CRE mortgage debt will come due. High-interest rates combined with more conservative lending terms brought on by the bank collapses will make refinancing an expensive and risky task. New data from the Mortgage Bankers Association hints that turbulent economic conditions may already be taking a toll on CRE: Q1 2023 commercial and multifamily sales activity fell 42% from Q4 2022 and 56% on a year-over-year basis. 
On top of the banking crisis, loan deadlines, and rate hikes, a potential breach of the U.S. debt ceiling last month heightened anxieties for the CRE industry and the economy at large. While lawmakers were able to strike a deal ahead of the June 1 deadline, a default would have taken a significant hit on the commercial sector. The effects would have been wide-ranging; a higher volume of commercial loans would default, adding more uncertainty to an already precarious financing landscape. Additionally, construction costs would have likely increased as the value of the U.S. dollar fell.
Some CRE experts remain optimistic that the industry will avoid a major crisis. Moody's Analytics pushed back on recent data estimating that regional banks hold 65 to 80 percent of CRE debt, reporting that the real number is closer to 14%. First American Senior CRE Economist Xander Snyder also places lending in perspective, highlighting how "…regional and community banks represent only a part of the overall CRE lending landscape that includes bank and nonbank lenders alike." The role of nonbank lenders should not be overlooked; in the case that government-backed Fannie Mae and Freddie Mac halted lending in a default scenario, some analysts predicted strong growth among private lenders such as Blackstone.
State of the Sector: Office
Much of the concern has centered on the office asset class. More than a third of the roughly $300 billion in outstanding leases coming due are for office properties. The asset class has faced major challenges throughout the pandemic as companies shift to hybrid work, and vacancy rates remain at record highs. 
Xander Snyder suggests that office demand may never fully recover from the impact of hybrid work, sharing with Yahoo! Finance that "some permanent loss in demand to use office space is probably going to remain outstanding." There have already been a few high-profile defaults on office loans, most notably from Brookfield Corporation earlier this month. However, while there may be reduced access to CRE funding and some spillover to lenders and investors, some in the industry hold out hope that the office sector can avoid a total meltdown. 
Innovation: Proptech and AI Developments
Despite economic headwinds, innovation in commercial real estate continued to attract attention last month. The outlook for prop-tech and digitization is mixed. While some prop-tech companies are struggling to attract investor attention, investment in property management and transaction solutions remains strong. Industry experts are also contending with the rise of AI technology. Companies are beginning to implement AI for a range of tasks, from large-scale document scanning and data abstraction to more specific content generation. However, Commercial Observer points out that human expertise is still critical to ensure accuracy and maintain client trust.