We aren't good at much, but we always bring you Las Vegas things you won't see anywhere else. This is that.
This is sort of an Easter egg at one of our favorite Strip lounges, Rhumbar Tropical Ultra Lounge at Mirage.
It's a $250,000 staircase built for superstar Bruno Mars, but which he's unlikely to ever use. Long story, but we'll give you the short version because we are extremely busy and important and need to feed our hummingbirds.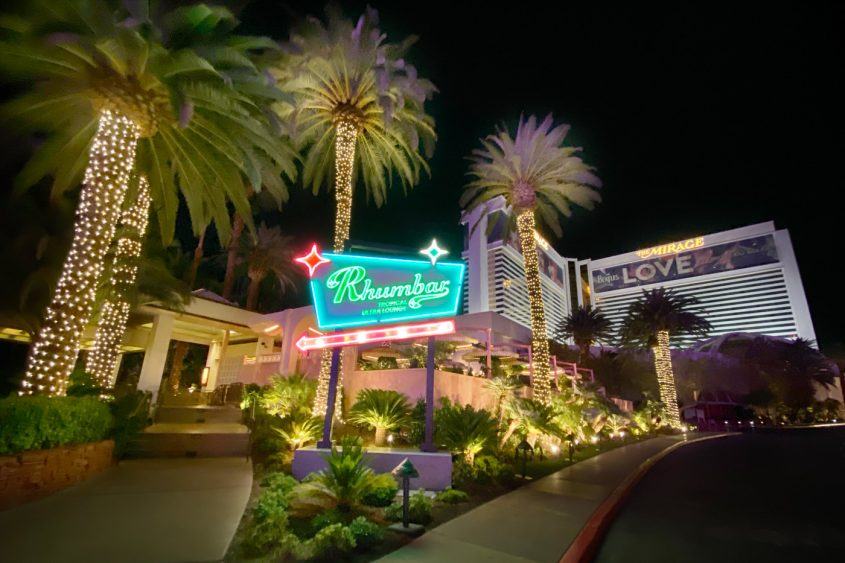 Awhile back, we exclusively shared news Mirage was getting a Bruno Mars lounge.
The rumor was confirmed later, but the story took an unexpected twist.
Mirage was supposed to get a Bruno Mars lounge, called the Pinky Ring, but during construction of the lounge, Mirage was sold by MGM Resorts to Hard Rock International.
Bruno Mars has an ongoing partnership with MGM Resorts, so plans for the lounge were nixed.
Then we shared the Bruno Mars collaboration was headed to Bellagio instead.
Remember the Bruno Mars lounge going to Rhumbar space at Mirage? Mirage sale put the kibosh on that plan, apparently. Now hear it'll take over the Lily Lounge at Bellagio.

— Vital Vegas (@VitalVegas) March 2, 2022
The renovation at what would become Rhumbar had already happened, including a special entrance for Bruno Mars.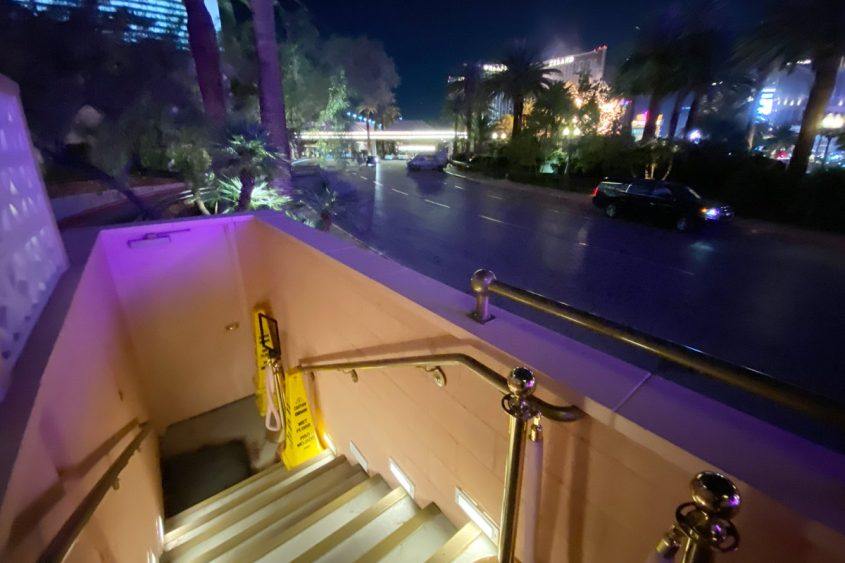 The Rhumbar lounge became the loftier Rhumbar Tropical Ultra Lounge, the rest is history.
Bellagio, an MGM Resort casino, recently confirmed its Lily lounge has closed and the resort plans to open The Pinky Ring lounge in partnership with, wait for it, Bruno Mars.
Bruno Mars isn't just a star, he's also a really good casino customer (and by that we mean terrible gambler), so keeping Mars in the MGM Resorts family was a high priority. Bummer for Mirage.
On the bright side, Rhumbar is a great lounge with whimsical cocktails and possibly the best food we have ever had in our life, cheesy monkey bread.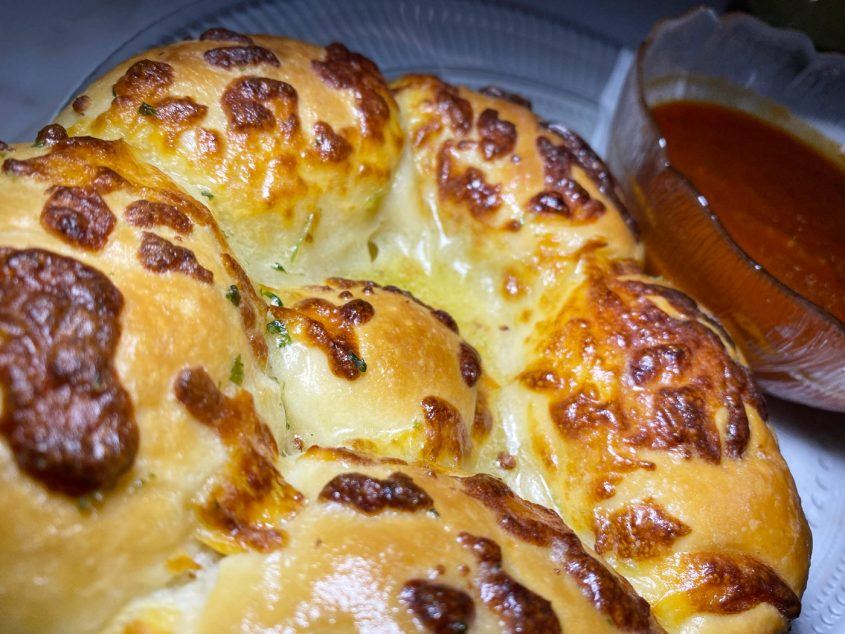 When you're at Rhumbar, you can see the exit to the Bruno Mars stairway in the VIP area.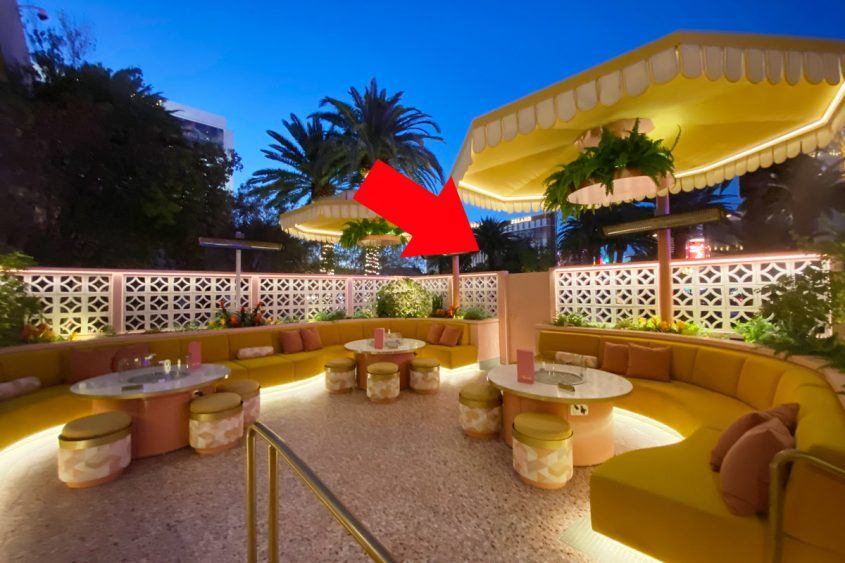 The plan was for Mars to be driven up and dropped into the VIP area which was going to have its own DJ booth so he could party the night away with his posse or whatever the kids are calling groups of friends now. Squads? Gaggles? Hangers-on? Sycophants?
Yes, we are obviously jealous we don't have a squad or sycophants. Moving on.
Now you know!
There are big plans ahead for Mirage as it transitions into Hard Rock Las Vegas.
The Bare pool is no longer topless, for example.
We also shared that Chef Tom Colicchio is parting ways with Mirage. His Tom Colicchio's Heritage Steak will be rebranded to simply Heritage Steak and will carry on, pretty much seamlessly, but with a five percent bump in gross revenue for Hard Rock International (because that's the typical cut for celebrity chefs when they do licensing deals).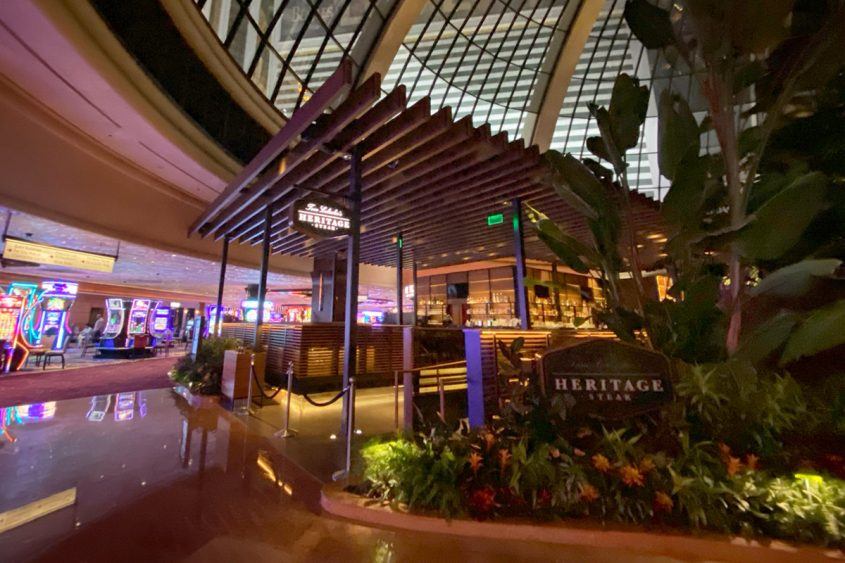 Soon, Mirage will get a massive and glorious hotel tower shaped like a guitar, at which point the resort will be renamed Hard Rock Las Vegas. That's probably happening in 2025.
Walking through Mirage, it feels like it's been refreshed. There's a new loyalty club, Unity.
Parking is free for Las Vegas locals (on weekdays), so there's that. The Mirage Web site says locals who are new loyalty club sign-ups get $25 in free play, but that didn't happen for us for some reason. We trust it's because they are intimidated by our girthy mojo.
Happily, the resort's dolphins have been relocated to Sea World and a sea sanctuary. No recent word on where the big cats will end up (word is it won't be the Lion Habitat Ranch near M Resort), but they're working on it.
In addition, Cirque's "Love" has been extended through 2024.
Mirage feels cleaner overall and the friendliness of the staff seems to be elevated for some reason. We trust that's attributable to the management change. To a person, every executive we've met at Mirage seems shockingly normal. If you've been around casino people much, you'll understand how rare and refreshing that is, all due respect.
There's more live music in lounges and bars around the resort, but nobody's perfect. (Just a personal preference.)
If you haven't been in awhile, Mirage is worth a visit. If you hit Rhumbar, check out Bruno Mars' quarter-million-dollar staircase. You can sort of see the volcano show from there. Enjoy it while you can.