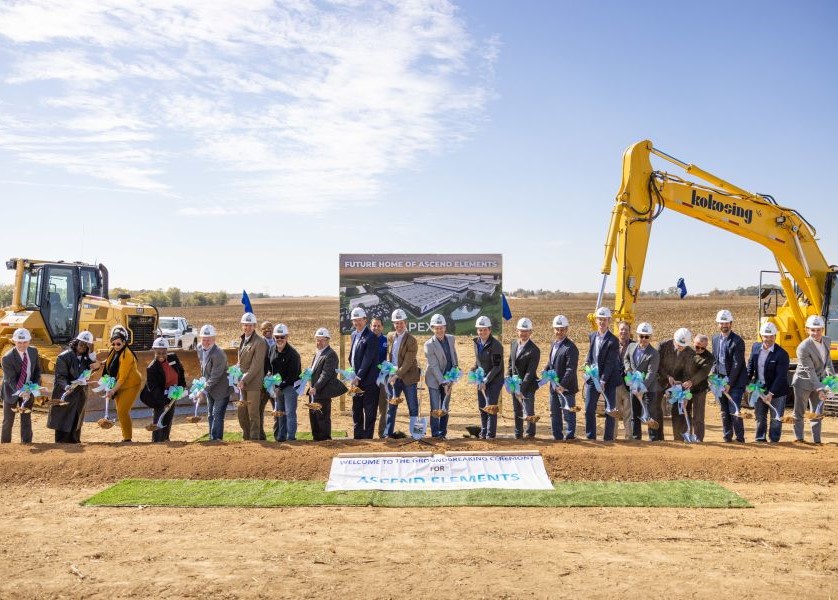 Ascend Elements has broken ground on Apex 1, a 500,000-square-foot manufacturing facility in Hopkinsville, Ky., that will produce sustainable lithium-ion battery cathode materials for electric vehicles.
The company has received two grants totaling $480 million from the U.S. Department of Energy to build the project, which is expected to bring hundreds of full-time jobs and billions of dollars in positive economic impact to Kentucky.
At Apex 1, Ascend Elements plans to deploy its innovative Hydro-to-Cathode direct precursor synthesis technology, which produces new cathode materials from spent lithium-ion cells in a more efficient and sustainable way than traditional methods. The company has been running a pilot scale version of this technology at a Massachusetts location for the last few years.
---
READ ALSO: Meridian Group's Upbeat Take on Industrial
---
Upon completion, Apex 1 will produce enough materials to equip 250,000 electric vehicles per year. The facility is expected to accommodate as many as 400 full-time employees and generate $4.4 billion in positive economic impact to Kentucky over the construction period and the first 10 years, according to Ascend Elements.
Addressing the growing demand for electric vehicle parts
Ascend Elements plans to invest nearly $1 billion into the Apex 1 facility, which could include potential expansion phases. Kentucky's governor, Andy Beshear, said in prepared remarks that Apex 1 is the largest development project in western Kentucky after Ascend Elements announced that it would invest heavily into the facility.
According to Michael O'Kronley, CEO of Ascend Elements, the plant will become the first in the U.S. to provide a domestic source of sustainable lithium-ion cathode material for EV batteries.
Besides Ascend Elements, many other companies are building out facilities to produce components for electric vehicles. Earlier this month, Our Next Energy, Inc. signed a multi-year lease at a 659,589-square-foot facility in Van Buren Township, Mich., with plans to invest $1.6 billion to convert it into a manufacturing plant for electric vehicle battery cells. In May, SEMCORP Advanced Materials Group chose a site in Sidney, Ohio, for its $916 million manufacturing facility that will produce a key component of electric vehicle batteries.