Florida's largest community bank, Amerant Bank, continues to grow the national footprint of its mortgage subsidiary, Amerant Mortgage, through acquisitions.
In these times, double down — on your skills, on your knowledge, on you. Join us August 8-10 at Inman Connect Las Vegas to lean into the shift and learn from the best. Get your ticket now for the best price.
Florida's largest community bank, Amerant Bank, continues to grow the national footprint of its mortgage subsidiary, Amerant Mortgage, by acquiring F&B Financial Group in St. Louis, Missouri, to launch a Midwest hub.
Chris Fox, president of F&B Financial, will remain with Amerant Mortgage in a sales leadership role to continue growing the retail mortgage banking footprint, the companies said Thursday.
"For Amerant Mortgage, the Midwest was the perfect move, as it provides geographic diversity and an opportunity to partner with a well-respected market leader," said Tony Eelman, president of Amerant Mortgage, in a statement.
Launched as a joint venture in 2021 with former City National Bank executives Howard Levine, Tony Eelman, Marshall Martin and Joe Keel, Amerant Mortgage is now a wholly owned subsidiary of Amerant Bancorp Inc.
Amerant Mortgage expanded its footprint in late 2021 with the $1 million acquisition of Boise, Idaho-based First Mortgage Company Inc., which provides nationwide support of Amerant's mortgage clients and referral partners. Amerant Mortgage then hired a team of industry veterans to expand its wholesale lending channel.
Amerant Mortgage employs 43 mortgage loan officers, up from 27 in May 2022, according to the Nationwide Mortgage Licensing System. It also sponsors another five. Amerant Mortgage is licensed in Connecticut, Georgia, Idaho, Illinois, Kentucky, Maine, Maryland, Montana, New Hampshire, New Jersey, Puerto Rico, Rhode Island and South Carolina.
Amerant Bank, which operates 23 banking centers — 16 in South Florida and seven in the Houston area — employs 153 registered mortgage loan originators, up from 139 in May 2022.
In its latest quarterly earnings report, parent company Amerant Bancorp Inc. said it purchased $413 million in loans through Amerant Mortgage in 2022, including loans originated and purchased from different channels.
Amerant Mortgage turns profitable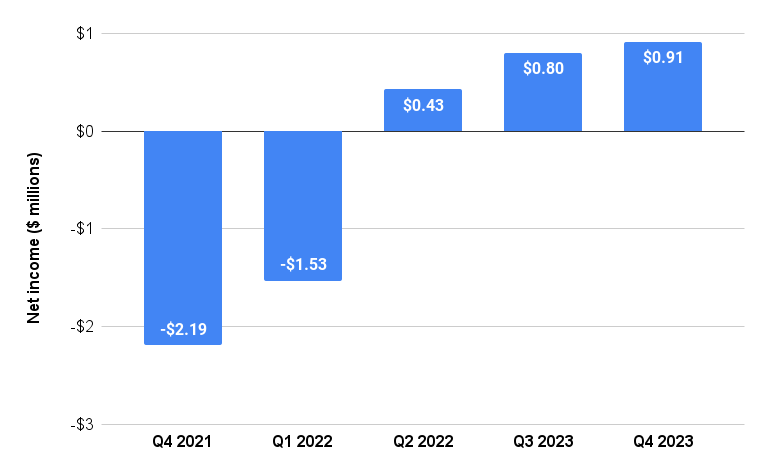 Stand-alone net income, Amerant Mortgage, including mortgage servicing rights income from affiliate | Source: Amerant Bancorp Inc. investor presentation 
After posting losses in the fourth quarter of 2021 and the first quarter of 2022, Amerant Mortgage has generated positive stand-alone net income for three consecutive quarters. During the quarter ending Dec. 31, Amerant Mortgage generated $911,000 in stand-alone income, after factoring in $1.68 million in income from mortgage servicing rights.
Although mortgage loan applications declined 37 percent from the first quarter to the fourth, when 184 loan requests came in, Amerant Mortgage slashed operating expenses by 23 percent to $2.27 million. As of Dec. 31, Amerant Mortgage employed the equivalent of 68 full-time employees, down from a peak of 79 at the end of March. As of Jan. 12, Amerant Mortgage had 88 mortgage applications totaling $63.6 million pending.
Amerant Bank has also been working to raise its profile by partnering with the University of Miami athletic department in April and inking sponsorship deals with two professional sports teams in July — the Miami Heat NBA franchise and the Florida Panthers NHL team.
"We're excited to not only be able to say we're the official bank of the Panthers but to also have them as one of our newest customers," Amerant Chairman and CEO Jerry Plush said on a call with investment analysts. "And the same goes for our partnership with the Miami Heat. Banking with us is an essential part of these partnerships."
Plush said Amerant Bank has received approval from federal banking regulators to open two new full-service banking centers — one in Key Biscayne, Florida, and another in Ft. Lauderdale — later this year.
Get Inman's Extra Credit Newsletter delivered right to your inbox. A weekly roundup of all the biggest news in the world of mortgages and closings delivered every Wednesday. Click here to subscribe.