Click here to browse our Real Estate Agent Directory and contact top-rated agents in your area!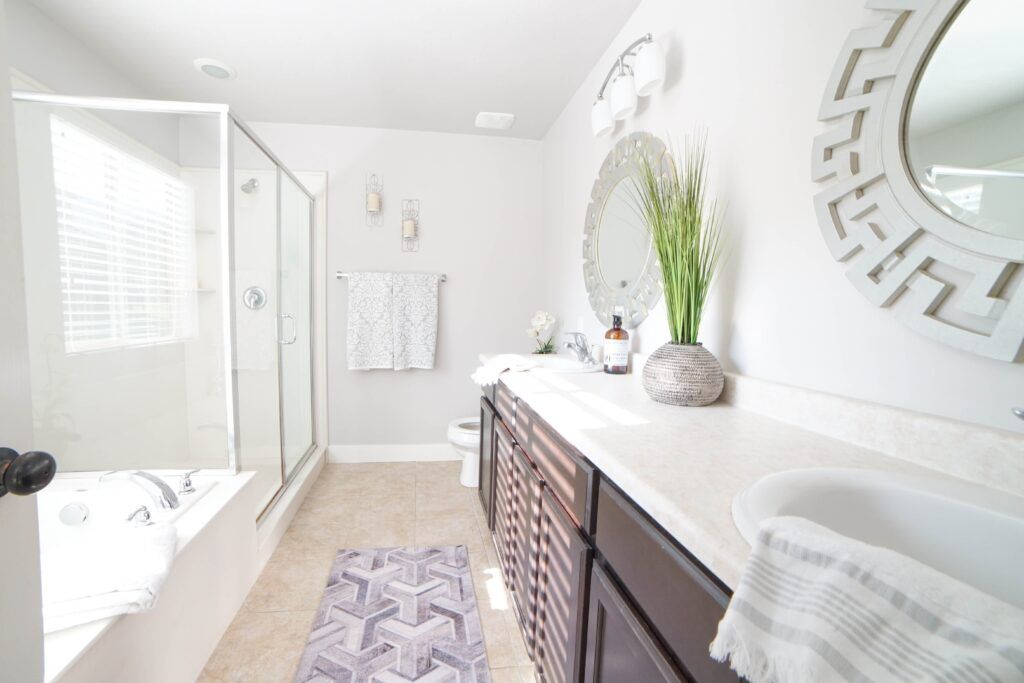 The bathroom, often one of the most frequently visited rooms in a house,  serves as a private sanctuary where you refresh, rejuvenate, and unwind.  Despite its importance, it's easy to overlook this space when it comes to interior design. Fortunately, giving your bathroom a luxurious makeover doesn't necessarily have to break the bank. Here are 10 ways to make your bathroom look more expensive without a complete renovation. 
1. Invest in High-Quality Towels 
Begin with one of the simplest upgrades: towels.
Opt for high-quality, plush bath towels that add a sense of luxury to your bathroom. Egyptian or Turkish cotton towels are well-regarded for their exceptional softness and longevity. Keep the color scheme consistent, leaning towards neutral shades like white, cream, or gray for a sophisticated look.
Additionally,  consider monogramming your towels for a personalized touch of elegance. 
2. Upgrade Your Bathroom Hardware 
Next, focus on the details. Faucets, shower heads, and cabinet handles may seem trivial, but these small elements can greatly enhance the overall aesthetic of your bathroom.
Choose hardware finishes that complement the color and style of your space. Matte black or brushed gold can add a touch of modern elegance, while brushed nickel or oil-rubbed bronze leans more traditional.
Consider replacing outdated hardware with sleek, contemporary designs to give your bathroom a fresh and sophisticated look. 
3. Opt for a Statement Mirror 
A statement mirror is another quick and impactful upgrade. Large, framed mirrors can instantly make your bathroom feel more opulent and spacious.  Circular mirrors can soften the sharp edges typically found in bathrooms,  while a vintage-style mirror can add character to a minimalist space.  
Experiment with different shapes, sizes, and frames to find a mirror that complements your bathroom's overall style. 
4. Integrate Stylish Storage Solutions 
Clutter-free spaces exude a sense of luxury, so consider adding stylish storage solutions. Floating shelves, ladder shelves, or wicker baskets can be both functional and decorative.
Transparent glass jars can be used to store and display everyday essentials like cotton balls or bath salts, adding a spa-like feel. Look for storage options that not only maximize space but also add visual interest to the room. 
5. Install Dimmable Lights 
Lighting sets the mood of a room. Swapping harsh, fluorescent lights for soft, warm lighting can instantly make your bathroom feel more luxurious.  Consider installing dimmable lights or sconces for a spa-like atmosphere.
A  chic pendant light or a mini chandelier can also add an unexpected touch of glamour. Additionally, strategically placed LED strip lights can create a  soothing ambiance and highlight architectural features in the bathroom.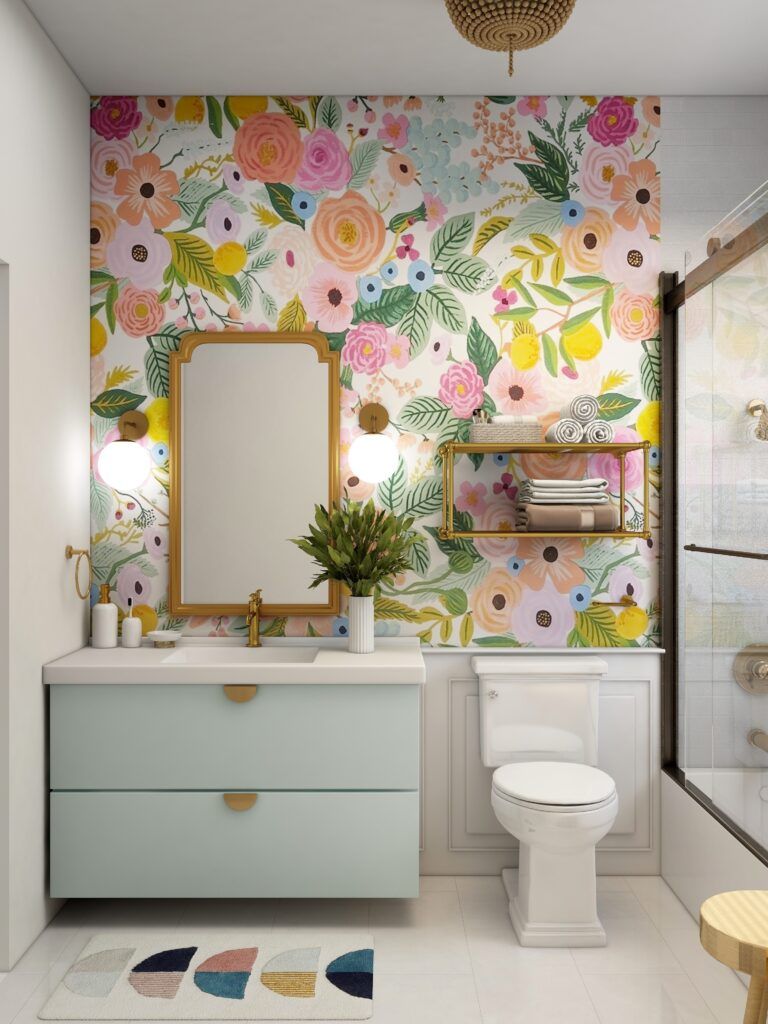 6. Refresh the Walls with High-End Wallpaper or Paint
Revitalize your bathroom walls with a fresh coat of paint or high-end wallpaper. Opt for a semi-gloss finish that resists moisture and is easy to clean.
Neutral colors often convey a sense of sophistication, but don't be afraid to choose bold colors or patterns if they align with your personal style. Alternatively, consider adding texture to the walls by using materials like beadboard or faux stone panels for a luxurious and unique look. 
7. Use High-Quality Bath Mats 
A plush bath mat underfoot brings a luxurious feel and enhances comfort.  Choose bath mats that match or complement your towel color to create a  cohesive look.
Also, consider the mat's size and shape based on the available floor space. For added elegance, select a bath mat with a non-slip backing and intricate patterns or textures. 
8. Add Greenery 
Plants breathe life into a room, and the bathroom is no exception. Many houseplants thrive in the humidity and indirect light often found in bathrooms.
Consider easy-to-care-for plants like bamboo, aloe vera, or orchids. They not only add a touch of nature and color but also improve indoor air quality. Place potted plants on countertops, shelves, or even hang them from the ceiling to create a spa-like atmosphere in your bathroom. 
9. Upgrade Your Shower Curtain 
An upgraded shower curtain can significantly enhance your bathroom's look. Choose a curtain with a tasteful pattern or a rich, solid color. Don't forget the curtain rod and rings – a curved shower rod adds depth, while metal rings add a bit of sparkle.
Consider adding a clear or frosted shower liner to create a sleek and modern appearance while keeping the water contained. 
10. Add Art and Accessories 
Finally, consider incorporating art pieces or accessories. Framed art prints or canvas paintings can make a statement and add a personalized touch to your bathroom. There are many places with art that can add an element of unique design to make your bathroom look expensive while still maintaining your budget.
Choose artwork that complements the color palette and style of the space. Scented candles, essential oil diffusers, or elegant soap dispensers can also add to the luxury feel. Look for accessories that not only enhance the visual appeal but also serve a practical purpose in your daily routine. 
Create a Luxurious Bathroom That You Can Enjoy
You don't need a full remodel to create a luxurious bathroom.  By focusing on details like high-quality towels, upgraded hardware,  strategic lighting, stylish storage, and decorative elements, you can transform your bathroom into a spa-like retreat without a significant financial investment.
Remember, the goal of these upgrades is to create a  space that you find both comforting and visually pleasing, making every bath or shower a rejuvenating experience. With a little creativity and attention to detail, you can elevate your bathroom's style and enjoy a  luxurious escape right in the comfort of your own home.
MORE GREAT INFO:
>>How Much Does It Cost to Remodel a Bathroom?
>>The Best (and Worst) Time to Sell Your Home
>>12 Mistakes to Avoid When Selling Your Home