Click here to browse our Real Estate Agent Directory and contact top-rated agents in your area!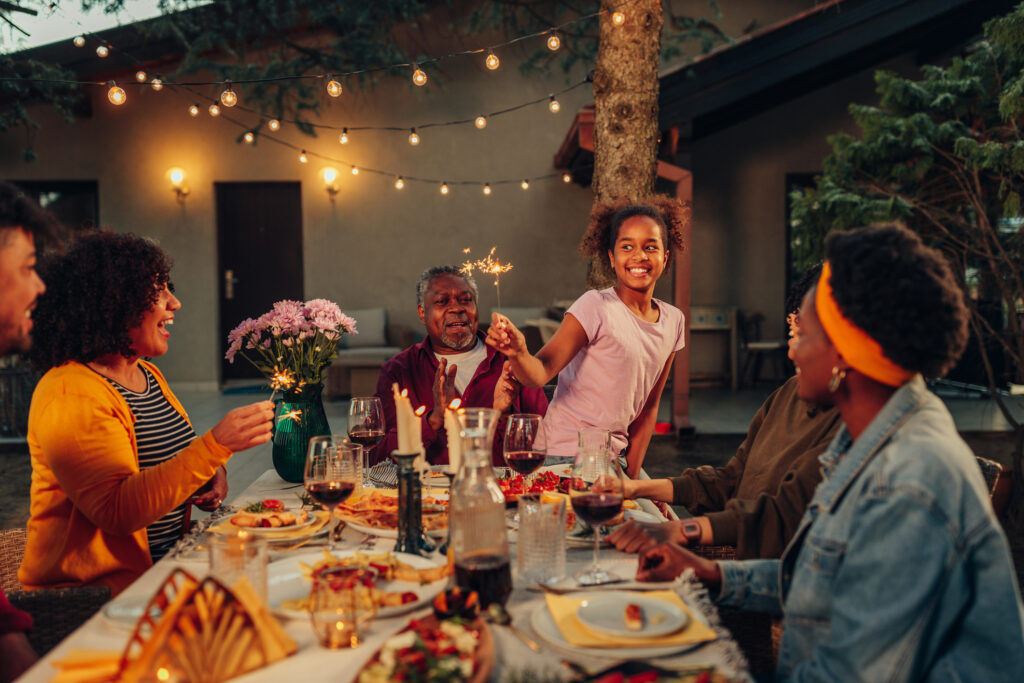 Your outdoor space has the potential to become a captivating destination that draws you in and encourages you to spend more time outside. However, you may worry that creating such a retreat would require a substantial investment. Fear not! With a little ingenuity and a focus on affordability, you can transform your outdoor area into a true haven without draining your wallet. Whether you have a spacious backyard, a cozy balcony, or a small patio, there are numerous budget-friendly ways to make the most of your outdoor space.
From embracing the power of plants and creating cozy seating arrangements to illuminating with outdoor lighting and crafting a DIY outdoor kitchen, each suggestion will help you maximize the beauty and functionality of your outdoor area without compromising your budget. Get ready to embark on a journey of outdoor transformation as we delve into these creative and affordable solutions that will turn your outdoor space into a destination you'll never want to leave.
Let's explore 10 affordable ideas that will elevate your outdoor space to a whole new level.
 1- Embrace the Power of Plants:
One of the most cost-effective ways to elevate your outdoor space is by adding greenery. Incorporate plants, flowers, and herbs in containers or hanging baskets. Choose a mix of perennials and annuals to ensure a constant splash of color throughout the seasons.
Create a vertical garden using repurposed pallets or hanging planters. Plants not only add visual appeal but also improve air quality, reduce noise, and provide a soothing atmosphere.
 2- Cozy Seating Arrangements:
Comfortable seating is essential for creating an inviting outdoor space. Look for affordable options like secondhand furniture, repurposed pallets, or DIY seating made from cinder blocks and cushions.
Arrange the seating in cozy groupings to encourage conversation and relaxation. Add weather-resistant throw pillows and blankets for extra comfort and style. Also, don't forget to include a shady spot with an affordable umbrella or a canopy to protect you from the sun's rays.
 3- Illuminate with Outdoor Lighting:
Proper lighting can transform the ambiance of your outdoor space, making it enchanting even after the sun sets.
Opt for affordable string lights or solar-powered lanterns to create a warm and inviting atmosphere. Install solar-powered path lights to add a touch of elegance and ensure safety during nighttime.
Additionally, consider adding a fire pit for a cozy gathering spot and a natural source of light.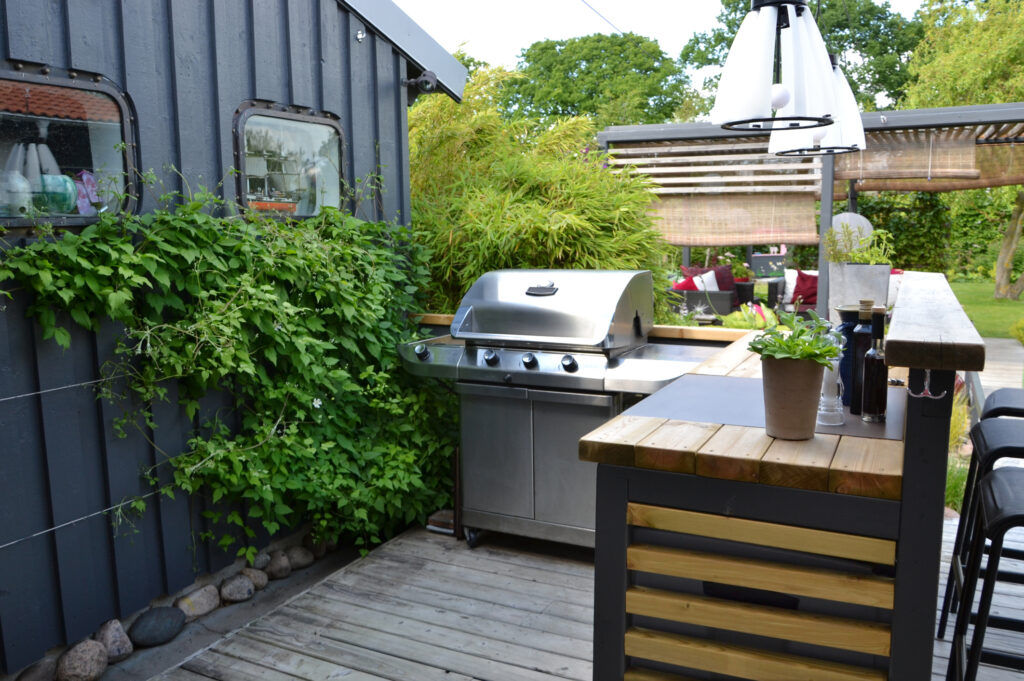 4- Create a DIY Outdoor Kitchen:
An outdoor kitchen doesn't have to be a costly investment. With some creativity, you can design a budget-friendly cooking area. Use repurposed materials like pallets or cinder blocks to construct a grill station or a barbecue pit.
Also, consider installing a portable grill or repurposing an old charcoal grill. Add a sturdy table or countertop made from salvaged materials for food preparation.
Enhance the experience with a mini herb garden nearby for easy access to fresh flavors.
 5- Craft a Stylish Outdoor Dining Area:
Transform your outdoor space into a destination for delightful meals. Choose an affordable dining set or repurpose a wooden table and chairs with a fresh coat of paint.
Create shade with a budget-friendly canopy, or use a large patio umbrella. Add pops of color and personality with vibrant tablecloths, placemats, and outdoor-friendly dinnerware.
Consider hanging a charming outdoor chandelier or string lights above the dining area for added elegance.
 6- Install a Budget-Friendly Water Feature:
The sound of trickling water can bring a sense of serenity to your outdoor space. Incorporate a budget-friendly water feature like a small fountain, birdbath, or a DIY waterfall made from stacked rocks and a small pump.
Water features not only create a calming atmosphere but also attract birds and wildlife, enhancing the overall beauty of your outdoor sanctuary.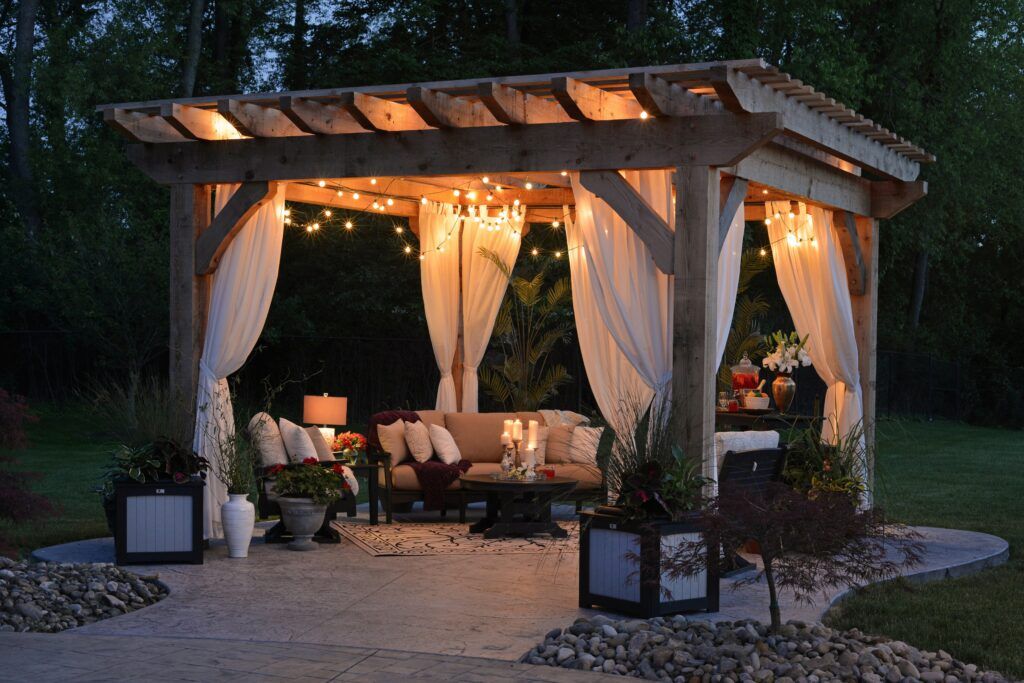 7- Define Spaces with Privacy Screens:
Enhance your outdoor space's privacy and create distinct areas using affordable privacy screens. Use lattice panels, bamboo blinds, or repurposed shutters to create separation between different zones.
These screens not only provide privacy but also add texture and visual interest. You can also use climbing plants like jasmine or ivy to create a living privacy screen naturally.
 8- Add a Splash of Color with Outdoor Art:
Make your outdoor space vibrant and visually appealing with affordable outdoor art.
Hang colorful paintings, wind chimes, or metal sculptures on fences or exterior walls. Create a DIY mosaic with broken tiles or repurpose old garden tools as wall decor. These artistic touches will infuse personality and charm into your outdoor area.
 9- Incorporate Functional Storage Solutions:
Keep your outdoor space organized and clutter-free with budget-friendly storage solutions.
Use repurposed wooden crates, storage benches, or vertical shelves to store gardening tools, cushions, and other outdoor essentials. In addition, utilize hanging hooks or a pegboard to keep smaller items within easy reach. Functional storage not only maximizes your space but also ensures a clean and tidy outdoor oasis.
10- Enhance with Natural Elements:
Take advantage of nature's beauty by incorporating natural elements into your outdoor space. Use rocks and stones to create pathways, borders, or seating areas. Add a wooden trellis for climbing plants, or create a mini fairy garden with pebbles and small plants.
Additionally, incorporating natural materials not only adds texture and depth but also connects your outdoor space with the surrounding environment.
Embrace Your Outdoor Space on a Budget
Creating a captivating outdoor space on a budget is within reach. By embracing these ten affordable ideas, your outdoor space will become a destination that invites you to unwind, entertain, and reconnect with the beauty of the outdoors.
So, roll up your sleeves, unleash your creativity, and get ready to transform your outdoor area into a captivating retreat that you and your loved ones can enjoy for years to come.
MORE GREAT INFO:
>>The Best (and Worst) Time to Sell Your Home
>>12 Mistakes to Avoid When Selling Your Home